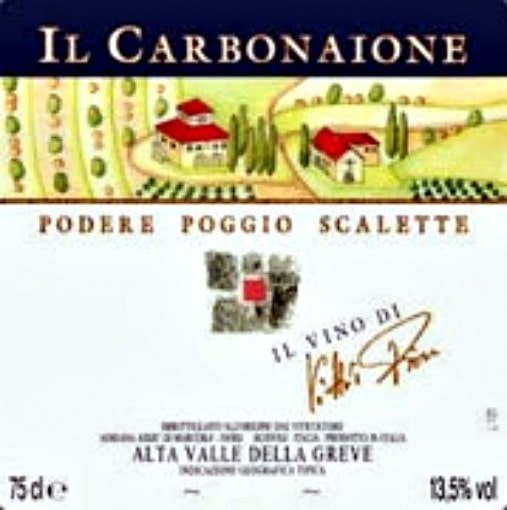 You know how there are those moments when you get to re-live your travel experiences all over again?  Well tonight is one of those nights for me.
For the last few years that we've been in Italy, we've made a point to send a case (or two) of wine home.  The process isn't difficult, we head off to Montepulciano where we have a favorite wine shop, do a little tasting, select a nice combination of favorites and new discoveries, and let the shop take care of the packing, shipping, and customs part of things.  We look for a combination of wines that we love, wines we cannot get at home, and choices that represent good value.  It's not a precise science or art, but I choose wines I like and that's most important to me.
Tonight I opened a bottle that we sent home nearly two years ago – a 2008 Podere Poggio Scalette Il Carbonaione – and it brought back memories of Tuscany and was almost. . . almost. . . like being there.
The 2008 Il Carbonaione is not available here at home, but does have some limited availability via online ordering through companies that ship to Washington.  (Available for $74.99 through Wine.com).  Il Carbonaione gets its name from "carbone," which means charcoal pit, because it's believed that a charcoal pit existed on the spot where the vineyard was planted some 75 years ago.  The 100% Sangiovese wine is rated a 92 from the Wine Spectator and a 93+ from The Wine Advocate, very high ratings from a rather lackluster year, and it's believed that aging will bring out even more from the wine.  It's a good thing I have another bottle and I'll lay it up for another few years as it's expected to reach it's peak sometime after 2014.
Some tasting notes, from the winemaker:
Il Carbonaione has generous aromas of blackberries and currants. This is a full-bodied, rich wine with an exuberant personality. Recommended with red meats, such as Bistecca alla Fiorentina (grilled T-bone steak), braised short ribs, venison or lamb, and aged cheeses.
And from the critics:
Layers of smoke, tar, licorice and beautifully integrated French oak wrap around the deep fruit. . . . An extracted style, dark and jammy, showing blackberry, plum and oak spice flavors.
Regardless of how the winemaker or critics explain it, from the very first sip it took me back to Tuscany.  It took me back to outdoor cafes in small hill towns, to lingering meals with great conversations, to being in a country where food and wine are made such a high priority.
Do you send wine home from your travels?  Is opening them as pleasurable experience for you as it is for me?
Photo credit:  Courtesy of wine.com