When I think about Italy, which I often do, it's not the attractions or the countryside that capture my attention.  Oh sure, it's beautiful and there are lots of incredible sights to see, but what really speaks to me is the food.  In my opinion, what makes Italy so fascinating and appealing is its food, wine, and people.
As I start planning my trip for this year, I've gotten together with friends to talk about what we want to see and do.  In no time at all the conversation quickly turns to our favorites restaurants.  The fabulous osso buco, the freshest tomatoes for the delicious bruschetta, the hand-rolled pici pasta, and the soft and creamy burrata.  In fact, I'm already salivating for the delicious mushroom soup at Latte di Luna.  Every time we get started talking about the delicious dishes, someone pipes us with the comment, "How come we can get anything as good as this at home?"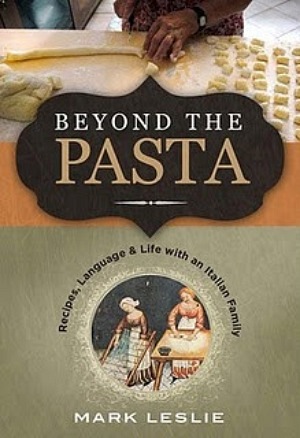 When I was offered a copy of Beyond the Pasta (by Mark Leslie) to review, with its subtitle Recipes, Language and Life with an Italian Family, you knew I was going to shout YES!  Maybe I could find out how to have a little piece of Italy at home.
Here's the basic concept:  Guy goes to Italy and falls in love with the place.  He enrolls in enrolls in a full-immersion cooking and language program, learning to cook from Nonna (the grandmother) and the language from her daughter.  He goes back to Italy every year.
Except for the part about the cooking and language program, it's an all too familiar story as visitors fall in love with the Italy.  But the difference that experience provides is what turns this combination cookbook –  travel book – food memoir into an enjoyable read that had me nodding my head and chuckling all too often.  If your visits to Italy have you dining in the finest restaurants and having wine at your upscale hotel, you may not understand or relate.  But if you've lingered in a small family owned cafe, stayed late to sip wine or grappa with the owner and his family, or peeked your head into the kitchen and watched that cafe's very own Nonna making pasta, then this will be a book that you'll enjoy.
I'm not going to detail all of Mark's day-to-day adventures.  If you experienced any small bit of traditional Italian family life, you already have a preview of what to expect.  Discovering the tidbits of daily life in Italy is part of the fun in reading the book, and Mark tells the stories with great humor.  There's plenty of Italian, too, so you'll be able to brush up on your language skills as well.
The stories are charming and funny, but c'mon, I wanted to read the book for more than that – let's get down to the food!
There is plenty of discussion about food, along with over 25 recipes.  There are some of my favorites that I lust for every visit (bruschetta in various forms), some dishes that I've only recently discovered (Sicilian Rice Balls), and some that I'm anxious to try (Grappa Cookies).  I'm going to spend some of the cold winter weather doing a little cooking – maybe I can get that good of food right here at home.
Two big thumbs up for this book!
Beyond the Pasta was written by Mark Leslie who also has a blog of the same name. It is available from Amazon for $32.95 or it can be purchased through Mark's website.  It is not currently available for Kindle (although I LOVE my Kindle, this is a book I'd want as a hard copy).
Who will like this book:  Italiophiles, foodies, cooks, travelers, and anyone who likes a good family story.
This book review was part of the Italy in Books Reading Challenge.  Why not join us?
Photo credit:  Courtesy of the author
NOTE:  I was provided a complimentary copy of the book for purposes of this review.  The opinions expressed herein are solely my own.