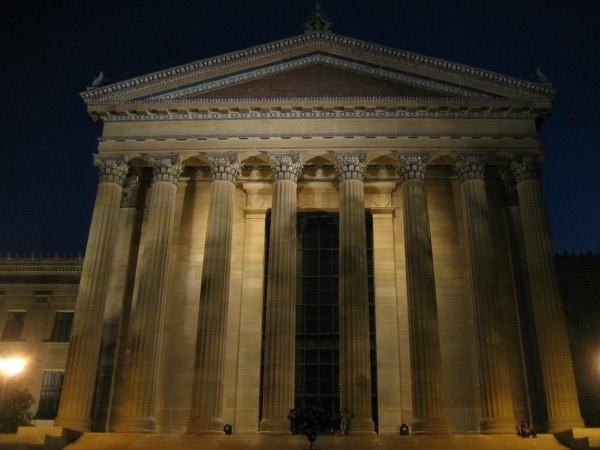 The Philadelphia Museum of Art is as important to the City of Brotherly Love as it was to boxer Rocky Balboa, the unlikely here of the movie Rocky and its sequels.  Rocky, played by Sylvester Stallone, trained for his first big fight by running up the steps of the museum.  While a visit to the museum will usually find someone running up the steps, known as the Rocky Steps, merely walking up them gives you entrance to a very special world of art and culture.  And yes, there's plenty of people grasping their hands overhead in the Rocky stance!
The museum was founded in 1876 in conjunction with the Centennial Exposition and opened to the public the following year.  The current building, quasi-Greek revival in design, was opened in 1928.  The museum houses impressive collections of paintings from Renaissance masters, American artists, French impressionists, both contemporary and modern art, and furniture from the Revolutionary period.
Two featured exhibitions include:
Michaelangelo Pistoletto:  Cittadellarte – This contemporary Italian artist's current work is featured in this exhibit, and is recommended viewed with —
Michelangelo Pistoletto:  From One to Many, 1956–1974 – A companion exhibit of over 100 pieces of interdisciplinary work, allowing you to compare and contrast the two exhibits.  Both run through January 16th, 2011.
You'll also see impressive photograph display of Paul Strand, an medieval armor collection, a Dada exhibit, a show of Presidential China, paintings of Ellsworth Kelly, a collection of Chinese Snuff Boxes, a collection of Italian Renaissance marriage chests, and lots more.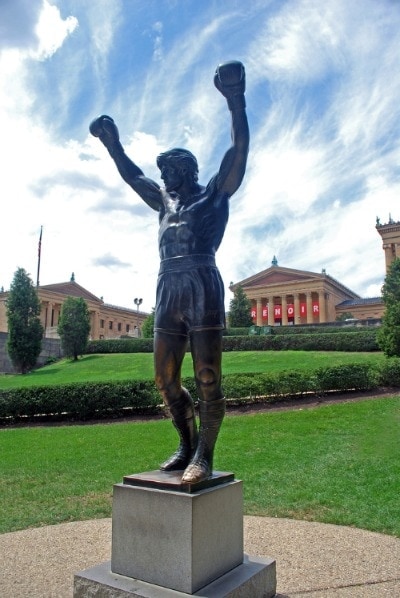 Outside of the museum, in keeping with the notoriety that he brought to the museum, is a bronze statue of Rocky.  Although you'll see it at the top of the steps in the movies (Rocky III and V), its permanent location is at the bottom of the steps.
A visit to the Philadelphia Museum of Art can easily take the better part of the day, depending on your areas of interest.
Once you've finished with the Main Building, cross the street and take a look at the Perelman Building.  The featured exhibit here is:  An Eakins Masterpiece Restored:  Seeing The Gross Clinic Anew – A look at one of his most notable pieces, and a few more.  Runs January 9th, 2011.  Also on display is a menwear tailoring display, a North African jewelry collection, a photograph display of Mark Cohen, and more.
Other local art museums, including the nearby Rodin Museum (look for an upcoming post) and the Park Houses are also part of the Museum of Art.
Location:  Benjamin Franklin Parkway at 26th Street in Philadelphia.
Hours:  Tuesday through Sunday, 10 am-5 pm, Friday evening open until 8:45 pm.
Admission:  Adults $16; Seniors (65+) $14; Students $12; Children (ages 13-18) $12, 12 and under are FREE.  The first Sunday of each month is pay what you wish all day.  This admission covers both the main building and the Perelman Building.
Photo credit:   via flickr (exterior night); SD Welch via flickr (Rocky)