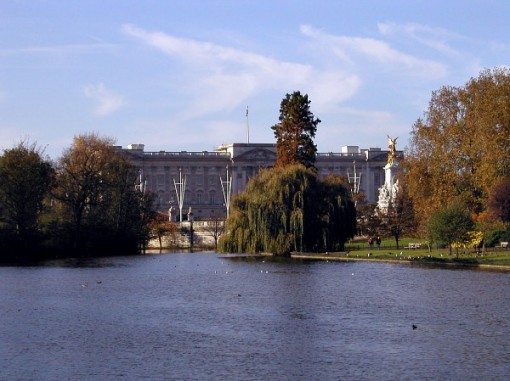 A visit to London this year is sure to be full of hectic activities and adventures. The 2012 Olympics Summer Olympics will bring in athletes, fans, and visitors from around the world, and Queen Elizabeth's Jubilee has the calendar chock full of commemorative events and displays. You can easily find yourself wrapped up in a whirlwind of activities at a maddening pace.
When you're ready for a break, and a get back to nature moment, try visiting one of the 8 royal parks of London, most of which are an easy walk from your London location. Fair warning, they can be busy, crowded, places, but the opportunity to enjoy some beautiful grounds in the out-of-doors, can be a tonic to the traveler's soul.
The parks were originally 5,000 acres of hunting grounds for the royals. Later they became formal gardens, still for the royals however. It wasn't until the mid-1800s that the first park was opened to commoners, er, I mean the general public. So take advantage of the royal opportunity and stop by one of London's 8 royal parks:
Bushy Park – Covering around 1,100 acres, most of which are open to the public, these were originally deer hunting grounds. Today Bushy Park is home to the rugby, hockey, and cricket clubs, and is also home to wildlife conservation areas full of herds of Red and Fallow Deer.
The Green Park – Consisting entirely of wooded meadows, The Green Park is believed to have originally been a swampy burial grounds. Later it served as a private family estate before being turned into a royal park. Government offices and royal palaces are linked beneath the park.
Greenwich Park – With magnificent views over the Thames and the city, Greenwich Park is part of the Greenwich World Heritage Site. The equestrian events and parts of the modern pentathlon events of the Summer Olympics will be staged here. The Royal Observatory is also located in the park.
Hyde Park – You may think this huge park, site of frequent demonstrations, is part of Kensington Gardens, but it has been a separate park of its own since the 1700s. Full of monuments (the Diana, Princess of Wales memorial is here) as well as wide open spaces (many famous rock concerts have been staged here), Hyde Park will host the triathlon and some swimming events for the 2012 Summer Olympics.
Kensington Gardens – With plenty of wide open spaces, Kensington Gardens was once the private gardens of Kensington Palace. The gardens are fenced, a bit formal and posh, and full of art, making it a popular respite spot for visitors.
Richmond Park – The largest of the royal parks at 2,360 acres, Richmond Park is home to Red and Fallow Deer and more notable monuments and historic sites that you can shake a stick at. It is home to the Queen Mother's Copse, a small triangular enclosure established in memory of the late Queen Mum.
St. James' Park – The oldest of the royal parks, St. James' is adjacent to Buckingham Palace and has a small lake with two islands with a resident colony of penguins.
Regent's Park – Regent's is home to Regent's College and the London Zoo along with gardens, a boating area, playgrounds, and a variety of sporting areas. Although originally scheduled as a venue for the 2012 Summer Olympics, it doesn't look like that will happen.
Eight royal parks, each with their own personality and appeal – and just perfect for an afternoon of enjoyment.
Photo credit: public domain via wikimedia