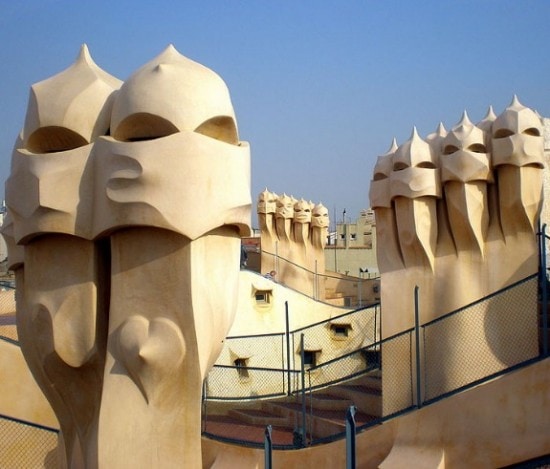 My head has been thinking a lot about Spain these days and have been sussing out all the things to see and do in the Catalunia province in northeastern Spain, from the big city of Barcelona to the mid-sized city of Girona to the small town of Begur.  There's exciting stuff:  medieval cities, historic town centers, fabulous food and drink, incredible, art, charming seaside villages, beaches, and lots more.  Oh yeah, my time is Catalunia is going to be just fine.
As I talked to friends and family members who have been to Spain (I haven't, this is my first trip there), I discovered that a family member is going to Barcelona to start a cruise during the precise time I am going to be in there.  We live 20 miles apart from one another, but we have to travel half way around the world to see one another.  They're as excited about their trip as I am about mine, although we're taking two different approaches to seeing the country.
It turns out that lots of people have a port of call in Spain on their cruise itinerary.  Not only is the Mediterranean a popular cruising area, but Spain's ports offer diversity for time spent on shore.  Consider these activities at the Spain's ports of call in Spain:
Barcelona – Lots of cruises start and end here, and since it's Spain's second largest city, there's plenty to do.  From the museums and historical buildings, from the quirky architecture of Gaudi (in photo) to the people watching on Las Ramblas, from the tapas bars to high-end shopping, if you can't find something to enjoy in Barcelona you're not really trying.
Alicante – One of the fastest growing cities in Spain, most of the tourism is focused on the beaches, but Alicante also has a rich history that shouldn't be overlooked. Check out Castillo de Santa Barbara, a castle that sits high atop Mt. Benacantil and overlooks the city and coast (in photo above).  Shop at Mercado Central, which was built in the 1900s on the remains of 17th century walls, or visit the contemporary art museum, Museo de Arte Contemporaneo de Alicante.
Almeria – Founded in 955 AD, you will see a lot of Muslim influence in Almeria. The Moorish castle, Alcazaba of Almeria, is the second largest in the region of Andalusia. If you are trying to get away from the more touristy beaches, head to Cabo de Gata.
Cadiz – Visit the Plaza de España, which was the meeting place of Cortes in the early 1800s, the Cadiz Cathedral, and the Torre Tavira, the biggest watchtower in the city.
Cartagena – Take a walk from the port to visit the lighthouse and get a great view of the city and shoreline. If you want to hang out around town, visit the Roman theater, or Ayuntamiento, the palace-like city hall.
Málaga – There are many historical buildings here that should not be missed – the Alcazaba ("citadel" in Arabic), Gibralfaro Castle, the Cathedral of Incarnation, and the Roman Theater. Málaga also has a museum dedicated to Picasso, who was born in the city.
Motril – If you can shed the inhibitions of home, sunbathe at a clothing-optional beach in Motril.
Palamós – Palamós is situated on a large bay, making it a popular spot for swimming, sailing, and windsurfing. The former fishing village has a one of a kind fishing museum.  Food tip:  try the locally sourced prawns, they're said to be the best around.
Tarragona – If you are visiting during the third week of September, the time I'll be in Spain, you can find festivities honoring the local saint, Santa Tecla. The main attractions here are the ancient Roman remains, a UNESCO World Heritage Site, and there are also several religious buildings worth visiting.
Valencia – Buildings in Valencia date back to the Roman and Arabic times in the 13th to 15th centuries, and the Silk Exchange Market (La Llotja de la Seda) has been designated a UNESCO World Heritage site.  There are also eleven museums throughout the city, and some lovely gardens for a casual stroll.
While I'll be seeing Spain on the ground, my research into what there's to see when taking a cruise, gives me a new appreciation for all that Spain has to offer.
What are your favorite things to do in Spain?
Photo credit:  Jaume Menesis via wikimedia commons