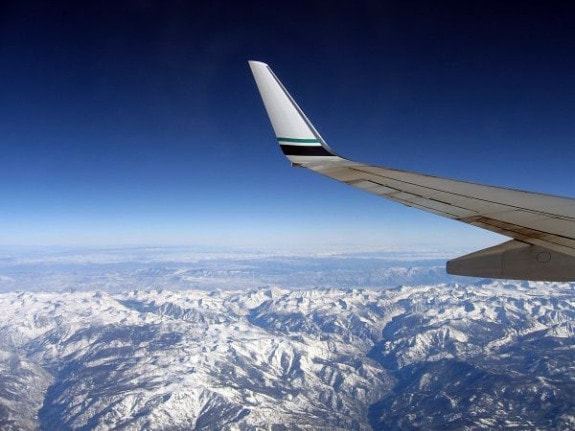 Spring break might be over for some kids, but there are still a lot of families traveling on the planes.  I'm not sure if parents are taking the kids out of school, home schooling, or if perhaps there are schools with a really late spring break.  Most of the families seem to be having a good time, the parents may be tired and the kids a little rambunctious – it's spring break, after all – but every day it reminds me how families choose to make travel a priority.
Kids are full of questions, whether they're experienced travelers or first timers, and they're not afraid to put it all out there.  From questions about flight etiquette to other information, here are some of my favorite questions from spring break – along with a few answers (always slanted to be appropriate for the child's age).
What makes the plane stay up in the air? Sure I took physics, but there's no way I can explain the concepts of lift, thrust, speed, and all that other stuff to a 10 year old.  I barely understand it myself, often preferring to think that it's all just smoke and mirrors.
Why do I have to turn off my iPad, iPod, or whatever other game or music player they have? Kids will just blurt out the question that you know adults are thinking and mumbling about.  There is plenty of debate about whether or not leaving these things on can endanger flight or not.  But that discussion doesn't really matter when you're on the plane right now.  A bunch of guys sitting in offices somewhere have decided that they need to be turned off and made it a regulation.  The rest of us have to ensure compliance with that regulation.  At least until such time as another group of guys sitting around in an office somewhere decide to change it.
Why do I have to wear a headset to watch my movie? I realize that you may not need to wear when at home or in the car because your parents want to hear what you're doing.  But on the airplane there are a hundred or so other people who want peace and quiet.  So everyone has to wear a head set, or turn off the sound, if you're using something that makes noise.
What's that? Whether it's asking about something on the airplane or out the window, I always try to explain it is.  For kids that are fearful travelers, getting answers to questions about the plane can be calming.  We often don't know what's out the window as we can't see out, but we can often call the flight deck to get a question answered.
Do you have any cards? No, we don't, although sometimes we have color books or paper to draw on.
Can I go up to the cockpit? During flight this is a big NO, but during boarding or deplaning there may be an opportunity.  Depending on time constraints, and what's going on in the flight deck, many crew members will show a child around, let him put on a captain's hat and pose for a photo.
When are we going to be there? For kids that can tell time, I tell them the truth – it will be four long , boring hours.  OK, I don't embellish, but giving them a real time frame usually helps them.  For a child that can't tell time yet, or doesn't have a watch, I explain it based on what will happen during the flight – before we land you'll have time to watch a movie and then have something else to drink.
I want kids to have an enjoyable and safe flight, whether they're traveling alone or with their family.  I don't always have the answers to questions, and answering is often a matter of timing, but there's nothing like watching a child discover the fun of seeing the world.
Does your child have a travel question?  Leave it in the comments and I'll do my best to answer it.
Photo credit:  author's collection
—-

This post is part of the Travel Blog Mob's salute to Spring.  Read what the other "mobsters" have to say:
Travel Green with Kids! Tips to Make Family Vacations Eco-Friendly from Ciao Bambino
Spring Ahead on Planning Your Summer Trips from BootsnAll
Go Skiing (But Not On Snow) from Spot Cool Stuff
It Might as Well Be Spring from Nerd's Eye View
Celebrate Earth Day with Free Admission at a US National Park from the Vacation Gals
Spring is Here! Get out Into the World – Or Bring It Home from Wanderinng Educators.