If the thought of a beautiful bag, a decadent pair of heels, or the luxurious feel of the fabric of a finely crafted suit make you swoon, then an afternoon on the Avenue des Champs-Élysées in Paris may be your definition of heaven.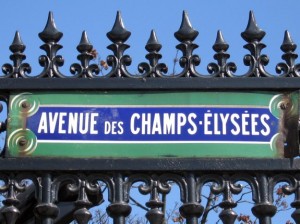 The Champs-Élysées is not only one of the most recognized street names in Paris, but in the entire world, and is lined with luxury and specialty shops, theaters, cafes and restaurants. The street itself is a little over a mile and a quarter long, running from the Place de la Concorde to the Arc de Triomphe in the 9th arrondissement.
The name translates to "Elysian Fields" a reference to the "place of the blessed" in Greek mythology. With the prices you'll see at most of these shops and cafes, you'll need to be blessed, indeed, to make this your prime shopping district.
It's easy to get caught up in its reputation as the ultimate shopping location, but originally, in the de Medici era, the area was just a field with an associated garden market. Later, it was the location of two famous marches to celebrate the 1944 liberation of France, one march by the French and the other by American troops. Even today, the Champs-Élysées tips it hat to history as the location of the annual Bastille Day parade. And cyclists will know it as the end of the Tour de France.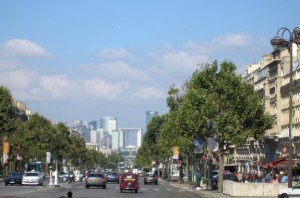 The Champs-Élysées is always full of people, day or night, attracting crowds for shopping, the theater, and the cafes and restaurants. Offices are located above the shops, so there are lots of working people, in addition to the tourists.
Shops range from the exclusive to large chains, and include favorites like Nike Paris, Adidas (its largest store in the world), Virgin Megastore, Louis Vuitton (its largest store in the world also), and the fun Drugstore Publicis, which, despite its name, has so many upscale products that it seems a misnomer to call it a "drug" store.
This is really not a street for strolling, rather the rapidly moving crowds pull you along with them. Step out of the main path to window shop, splurge on a fabulous purchase at one of the shops, or stop for lunch at one of the cafes. This is an expensive neighborhood, but if you think of it as a full entertainment experience, you'll more than get your money's worth.
Photo credit: personal collection