The USS Potomac was used by President Franklin Delano Roosevelt as his presidential yacht, and to this day it is affectionately referred to as the "floating White House."  The ship was  a 165-foot Coast Guard cutter before it was commissioned by the US Navy in 1936 and put to its new purpose.
FDR hated to fly, preferring to travel by ship or train, and the USS Potomac was outfitted to accommodate his mobility issues.  It could cruise along at speeds of 10-13 knots, and FDR would often hold informal strategy meetings aboard, enjoying the privacy and seclusion the yacht provided.  Visiting dignitaries were entertained on the yacht, and at least one of FDR's famed radio broadcasts originated from on board.  There were many "secret" meetings held aboard, only some of which have been made public, leaving us to speculate about all that went on aboard the ship.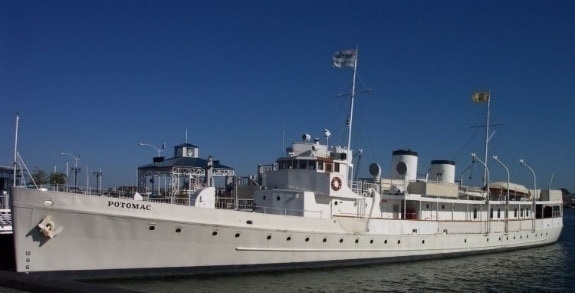 The yacht was also used for recreational activities, at least up until the bombing of Pearl Harbor.
Following the death of FDR, the Potomac went through a series of owners.  It was once owned by Elvis Presley! Eventually, though, she was used in more infamous endeavors, and was seized in 1980 as a front for drug smugglers.  Her hull was pierced one night and she sank — the once proud and majestic yacht had fallen.
After being re-floated by the Navy, the Potomac was sold to the Port of Oakland (for a mere $15,000) and a $5 million restoration campaign was launched.  It took a cooperative effort between organized labor, maritime corporations, and a bunch of dedicated volunteers, to finally complete the restoration.
The task complete, the yacht was berthed at Jack London Square, and opened to the public in 1995.  The Potomac is now a floating museum, with a nearby Visitor Center.  It has been declared a National Historic Landmark, and is a Coast Guard certified, fully seaworthy vessel.
Dockside tours of the Potomac are conducted on Wednesday, Friday, and Saturday, 11 am – 3 pm.  The tour includes a 15-minute video, and then a 45-minute guided tour.  Tour prices are $10 for adults, $8 for seniors (60+), and FREE for youth ages 12 and under.  Reservations are not required.
History cruises on board the Potomac are offered; Check the schedule for details.  After watching a video, you'll enjoy a 2-hour cruise around the San Francisco Bay, learning about surrounding landmarks and the historical connection between the FDR presidency and the area.  You can choose a guide or self-guided tour on board.  Tickets prices are $45 for adults, $40 for seniors (60+), $25 for youth (ages 6-12), and FREE for children ages 6 and under.  You can purchase your tickets online.
Special event cruises are also offered on the Potomac, including Veterans' Day Cruise, Valentine's Day Cruise, Father's Day cruise and more.  Offerings and prices vary, so check the schedule of special events for details and ticketing information.  These events sell out, so plan in advance.
The grandeur and 1940's ambiance of the Potomac is perfect for special events, and it is available for private charters.  It's been used for weddings, anniversary parties, reunions, and a variety of special events.
Location:  Jack London Square, 540 Water Street, in Oakland, California
Parking:  Available at the Washington Street Garage (between 2nd and Embarcadero Streets), one block from the Potomac.
Social Media: On Facebook.
Photo credit:  Wikimedia Commons