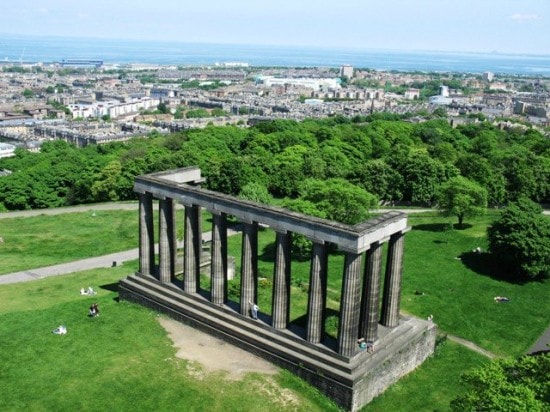 Scotland's capital city of Edinburgh is a popular place year-round for travelers of all kinds, but especially families. From the very atmospheric city streets to the many tours and festivals that the kids will love, Scotland will leave the parents charmed and your children ready for their return trip.
With so many attractions and venues, it's really hard to decide where to spend your time. So fuel up with a big Scotland breakfast, and then head out for a busy day – these suggestions are sure to keep everyone smiling
Edinburgh Castle
Of course, the famed icon that brings travelers here from afar has to top the list. But why? Because the castle can be a fun way to learn about Scotland's troubled history. There is so much to see here, from the city's oldest building (a small chapel) to quirky spots, such as the dog cemetery. On a clear day, this is also an opportunity to enjoy some picturesque views. The castle also has on site dining as well as plenty of souvenir shopping.
Tip: The castle gets busier as the day goes on, especially in summer. Try to make this an early visit for quick entry.
Camera Obscura
I have to admit that I just love Camera Obscura, which is a bit of an admission that I'm a geek. This building is very history (and supposedly haunted), and a great stop after visiting the Castle as it's just down the street. The guides will suggest you head straight up to the top floor for the rooftop "camera" demonstration, and I second this suggestion, as families will have to wait for one of the several scheduled demos each hour. This is a lot of fun if you've never visited a photography museum like this (there are several camera obscura museums like this one throughout the world). Each floor under the top has an array of interactive and hands on exhibits, guaranteeing to keep you laughing.
Tip: Once you're done, stroll a bit further down the Royal Mile and make a right at Starbucks. Duck into Chocolate Soup for a run treat for the whole family.
Royal Yacht Britannia
Get a really unique insight into the history of the British monarchy by boarding one of its most famous creations, the Royal Yacht Britannia. This ship was used by the royal family for many years in an official capacity, and much of the ship is almost near-perfect condition (some say even better!) than when she was at sea. The yacht has a self-guided tour that allows you to go at your own pace, which is great for families with differing interests.
Tip: Since you've come all this way, this is a great chance to do some shopping in the adjacent mall. I also can highly recommend the on board restaurant for some great soup and sandwiches during your tour.
Edinburgh Zoo
South of the city, the Edinburgh Zoo is somewhat overlooked. But it's popular with many local schoolchildren because of the great location – it's on one of the city's hills – and their popular penguin parade (which I will agree, is cute). The zoo often makes the news for their many innovative programs, so you never know who you might see on your visit here.
Tip: From the city centre, you can take the Airport bus (X100) which runs express to Edinburgh Zoo. You'll pay more money but you'll also get there more quickly and comfortably. Less frequent but less expensive would be buses 26, 31, and 12 – check with your hotel for the best choice for you.
Calton Hill
Last but not least is Calton Hill (pictured above), one of the seven hills of Edinburgh. It's not the highest – Arthur's Seat takes that award – but it is one of the best for families given the many monuments to see, and that the walk up here isn't quite as strenuous as some of the others. Be sure to bring your camera, as you'll get some of the most iconic views of the city – and bring a jacket, as the breeze up top can be chilly.
Tip: Most visitors don't take time to walk around the hill – there are some wonderful cemeteries, fantastic homes (many of which were planned by the original architects of the city), and of course, great views.
Photo credit: Courtesy of author
About the Author: Andy Hayes is the author of the #1 iPhone app for Edinburgh, Edinburgh Secrets. For more tips, follow him on Twitter, @TourEdinburgh.