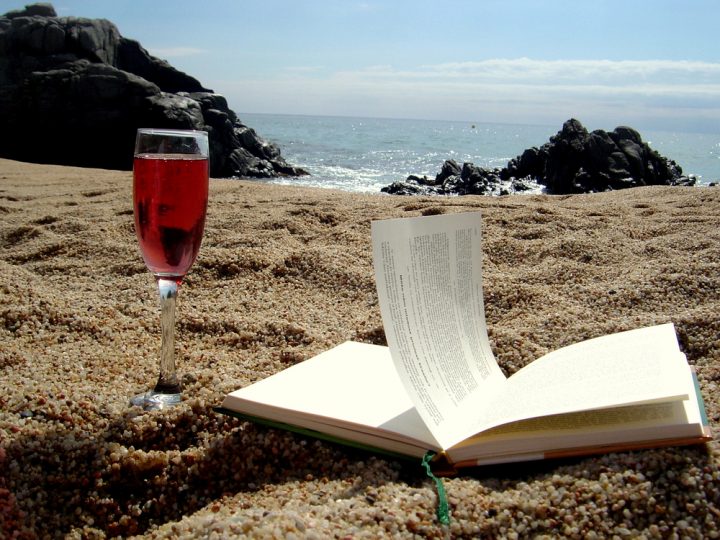 The four things I love most in life are my family (including a rather chubby Siamese cat), travel, food and wine, and reading. Life is the best when I can combine any of those things. Sitting in a cafe in Italy, drinking a glass of Barolo, and reading a book? YES! Reading in a bubble bath with a glass of wine? Bliss! Lounging on the couch with my cat on my lap and reading? Absolutely. Curled up in business class with the latest best-seller? Anytime!
See what I mean? Those things all seem to work well together and I'm happy to indulge. I also love picking up a book set in a destination that's on my travel schedule.
I'm generally a Kindle reader, with the exception of some gorgeous coffee table books I've picked up. While reading with Kindle has its occasional flaws, it more than overcomes those with convenience. And when you travel and read a lot of books, convenience means that I don't have to pack around the weight of a dozen books when I'm in Europe for a few weeks. Plus, my Kindle is always with me – in a carry-on bag, in my purse, in a coat pocket and I have the reading app synched up with my phone. That means that while I'm waiting in line, riding in a cab, or sitting in an airport lounge, I can forge ahead in my latest book.
Because I'm also a frugal reader, I generally get my e-books from my local library (where I usually have a dozen or so books on hold) and only purchase when I absolutely can't wait to read a new release. Check your local library online services, I bet you have this available as well. Sorry authors, I support you via asking my library to order e-book versions of your books, my budget can't stretch to purchases everything I read.
Two years ago, I started an annual Travel Reading List Challenge, founded out of my love of reading and curiosity for the world – and as a means of exploring new topics, writers, and points of view. It's also a way to decide what to queue up in the Kindle so there's always something to read. I invited a few other travel bloggers and avid readers to join me over the years, and today we launch the third annual Travel Reading List Challenge.
The reading challenge is designed for those who love travel and who love to read. For people who have a curiosity about the world around them, those who are always looking for their next great read (whether picking it up in an airport bookstore or finding wi-fi to download to their Kindle), those who want more ideas about what to read, and those who want to explore the world in person and through a good book.
The basic reading challenge has a pace of two books per month, for a yearly total of 24 books. The advanced portion of the reading challenge adds on another six books, bringing the yearly total to 30 books. It's a doable number, but perhaps more importantly, it gives you a way to be more mindful of your reading choices.
The challenge is self-paced. Read what you want, when you want it, there's no order you must follow. Feel free to interpret the list in any way you wish, choosing the type of books that you enjoy. However, I also hope you'll be encouraged to try some new authors, genres, and add new voices to your reading list – that's part of the fun of the challenge.
For suggestions of what to read, lively discussions about our favorite books, and recommendations of what to take along on your next trip, please join the Facebook Group. We talk about books, authors, reading, travel, and all the great stuff of life. You're welcome to join us there. You can also sign up for our monthly (or more likely quarterly) newsletter here.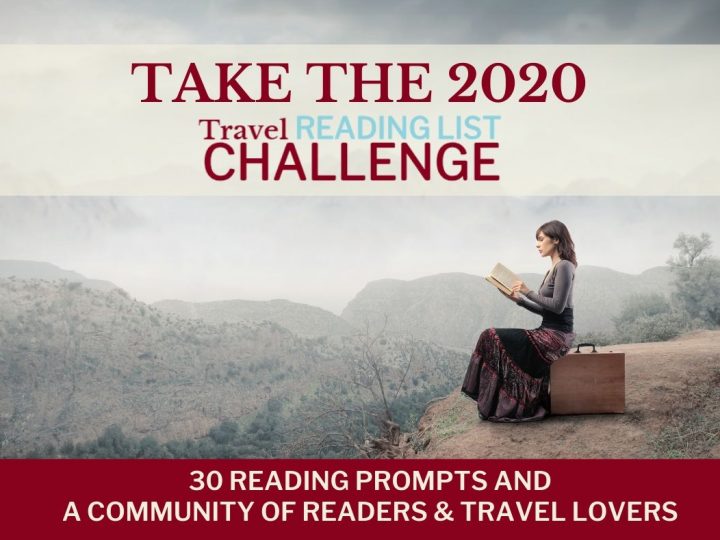 Basic Challenge (an average of two books per month)
A book with a destination in the title – The Last Train to London
A book published in 2020 – Such a Fun Age; The Girls With No Names
A book with a white cover – The Grace Kelly Dress; Supreme Justice; The Hunting Party; The War of Art;
A book with an animal on the cover – Talk to the Paw; St. Francis Society for Wayward Pets
A book with the word "travel" in the title
A book set in South America
A fiction book based upon a real person – Cilka's Journey
A book with a two-word title – Nothing Ventured
A book with a subtitle – Say Nothing: A True Story of Murder and Memory in Northern Ireland
A book with a number in the title – 28 Summers; The Day the World Came to Town: 9/11 in Gander, New Foundland;
A book set in a destination that you haven't visited – A Minute to Midnight (rural Georgia); The Beekeeper of Aleppo (Syria)
A book that takes place during the winter
A YA book
An alternative history novel – The Golden Hour (about the Duke of Windsor's time as Governor of the Bahamas)
A book about politics or politicians – Blowout; The House of Kennedy;
A banned book – The Book of Lost Friends (this is a book about a banned book)
A book that takes place on an island – What Happens in Paradise (Caribbean); The Summer Wives
A book with a badass chick as a lead character – Never Have I Ever ; The Victory Garden
A book recommended by a local bookstore or librarian – The Ambassador's Daughter; The Library at the Edge of the World;
A book set in Eastern Europe – The Things We Cannot Say (Poland); Chasing Black Unicorns (Poland);
A book set in Scandinavia – Behind the Myth of the Scandinavian Utopia The Almost Nearly Perfect People
A book with magic
A bestseller from 2019 – Summer of '69; The Giver of Stars
Advanced Challenge (an additional six books)
A book in a genre that you don't typically read – Eleanor Oliphant Is Completely Fine
A book featuring climate change
A book set in India – The Henna Artist
An essay anthology – The Witches are Coming
A book written by someone over 60 – The Guardians and Camino Winds (John Grisham);
A book recommended in the TRL Facebook group – The Glass Hotel
Others that don't really fit in any category: Hidden Valley Road; Hit List; The Baker's Secret; The Wicked Redhead; The Bookshop of Yesterdays; The Lending Library; Valentine; Pretty Things; Walk the Wire; Firefly Lane;
Who's in?
I'll be updating this list with the books that I've selected for each of these reading prompts. I hope you'll follow along.