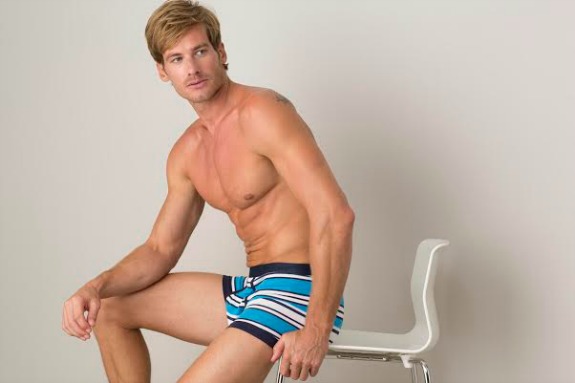 Luxury Collection of Underwear from Tani
Product:  Air Fitness Boxer Brief from Tani
Rating:  

 (out of three hearts)
Features:  Designed to be worn for athletic and everyday activities, the Air Fitness Boxer Brief keeps you cool and comfortable in any situation. The three-dimensional pique knit creates tiny pockets of air that helps regulate your body temperature, keeping you cool where you need it most. The SUPERFINE Tencel wicks away 50 percent more moisture than cotton.
What He thought:  I handed these over to my favorite guy traveler for review, asking him to pay special attention to comfort and wearability. I asked him to wear them under a variety of conditions:  every day, for high energy activities, for long and sweaty travel, and for light exercise. He put the boxers through its paces, laundered it by hand as well as by machine, and felt able to give it this review.
What was great:
Soft fabric that kept the wearer comfortably dry, and kept one's "junk" supported and comfortable.
These dry very quickly after laundering, making them a great travel option when packing less is important.
Waistband was comfortable, no digging in or irritation.
What wasn't quite as great:
The price. The original $45 price tag makes it an unlikely purchase, as there are other high quality options for less. However, the price seems to be slashed, a sale or a re-pricing, I'm not certain.
The fit. The fit either runs a little small, or the body that tested it runs a little large, but the fit in the leg just didn't cut it. A large, which would normally fit, seemed to ride up on the legs and was uncomfortable. We're going to chalk this up to the sizing, whether body or brief, rather than the design.
Who it's for:  Active travelers and adventurers with a clothing budget to buy upscale. Based on the fit, I'd suggest it's for a guy with a more lean body type rather someone with a few extra pounds or who is a bit out of shape.
Price Range:  Originally priced at $45, now on sale for $29.
Personal Notes:  Underwear is such a personal choice that it's hard to place a personal recommendation on it. What works for some, doesn't work for others, and is, in large part, related to body size and shape. While the Air Fitness Boxer Brief didn't fit my favorite guy traveler well, hence the 1-heart rating, that's not to say it's not a great product. It is. Had the fit been right, it would have been a 2-heart or 3-heart rating. These would make a great choice for travelers, who want to wear a pair and pack a spare (or two) as they launder up well and dry quickly. Our ratings are based on our personal experience with a product, and while the fit wasn't great for us, it may be perfect for you.
Disclosure:  A complimentary pair of Air Fitness Boxer Briefs was provided for the purpose of review.