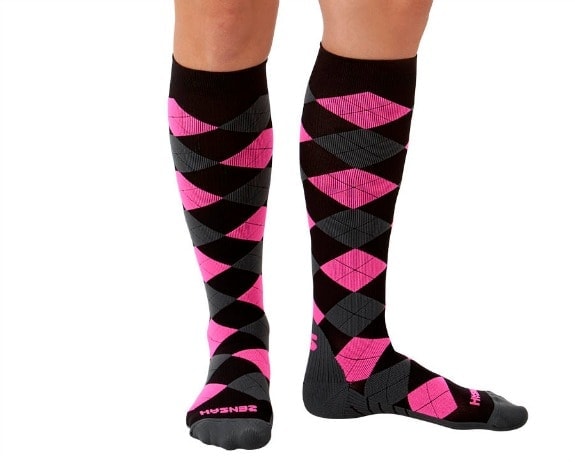 Compression Socks from Zensah
Product:  Tech+ Compression Socks from Zensah
Features:  Zensah Argyle Compression Socks provide for increased circulation and decreased recovery time by utilizing advanced graduated compression in each pair of argyle compression socks. Moisture wicking keeps the socks dry, and a padded toe and heel make them comfy. A graduated compression provides increased oxygenated blood flow and decreased recovery time from athletic activities. The compression socks are made in Italy.
What I thought:  Make no mistake about it, I am not an athlete and I don't pretend to be one, but when I saw these compression socks I thought they'd be great for traveling. There's been plenty written about the advantages of compression hose/socks while flying, so I won't go into here, and these Zensah socks caught my eye because they cute (c'mon pink and black argyle – what's not to like?) and the padded sole and toe seemed like they'd be great for the many miles I put on my feet while on the road (albeit non-athletic miles).
What was great:
Stylish, with an attractive range of colors. Don't worry if you don't like the girly pink, there is an array of other colors in solids and argyle.
The sock is available for men and women in easy to order sizes based on your shoe size. There is no need to take extensive measurements to get the right fit. (If you have concerns about the proper fit, check the Zensah website and help desk for precise fitting information.)
Thick sole and toe absorbs the pounding on the pavement from hiking and walking. It's thick enough to be cushy, but not so thick that your shoe won't fit properly.
Snug, supported fit, but not impossible to pull on, providing a comfortable fit. If you haven't worn compression socks before, you may not understand what I mean, but it take a little effort to put these on properly.
Knee highs stay up, no sliding down to my ankles.
Wash and dry. I put my compression socks in a lingerie bag for washing in cold water, then place in low drier.
Whether worn at 35,000 feet, or while hiking on the Olympic Peninsula, my spirits may have been failing, but my legs and feets weren't. I felt good.
And what wasn't quite as great:
I had a bit of pilling in the heel, sole, and toe area after the first wearing. Multiple launderings didn't seem to make it worse, but it does mean there has been some level of compromise in the fabric. It was likely caused by friction against my shoe, and although I'm not worried about it, I'll be keeping an eye on how they wear from here on out. The socks should last at least 6 month with typical wear (and I'd say that my wear is much less rigorous than a typical athlete), and will report back if there is any serious degradation.
At just under $50, the price may be a barrier to giving them a try. Don't get me wrong, I think they are worth every penny – and I won't hesitate to buy a pair – but for anyone on the fence, the price point may not help tip them to the purchase point.
Who its for:  Hikers, bikers, and runners (and other athletic types) will naturally be drawn to Zensah compression socks, but – don't overlook this product if you're a traveler. If you spend hours in the air, or pound out miles on the road, these socks may hlep make your feet feel good and provide some protection for your legs.
Price Range:  $49.99, available through the Zensah website, Amazon, and at various outdoor and athletic stores around the U.S.
Personal Notes:  The benefits of compression socks have only recently been front of mind for me. I've made the switch to compression pantyhose when working (flying), but obviously don't want to wear those when traveling for pleasure or when wearing casual clothes. If these continue to wear and perform the way I expect them to, I'll be adding another pair or two (in plain black) and will kick those pantyhose to the curb and wear these with my uniform instead.
Disclosure:  I received a complimentary pair of Zensah compression socks for purposes of this review.