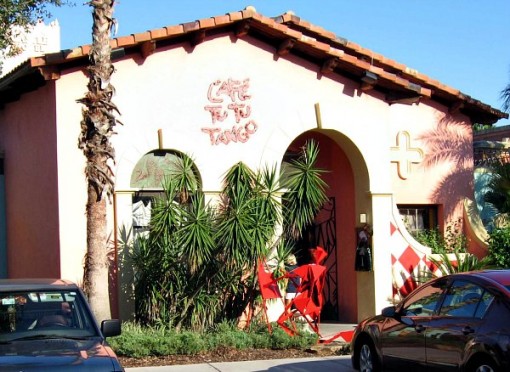 Orlando is a city of theme parks, tourists, and is frequently plastic and sterile. One year it was named the angriest city in America – I guess that fake smile starts to grate after awhile.  When you're ready to take a break from the theme parks and angry mobs, chances are you'll be looking for a restaurant that is nearby everything, has good food that's fairly priced, and has an enjoyable atmosphere.  And if you're traveling with the family, you want something that's kid friendly but offers up more than hot dogs and fries.
In Orlando, one of the restaurants that may just fit this description is Tu Tu Tango, a concept chain restaurant with locations in several states and in Canada.  The restaurants are all themed around Spain's bohemian artist culture – it's like being in an artist's loft.  If that were all there was to it, it would be one more blasé chain restaurant.  But, each Tu Tu Tango restaurant features local area artists who have a small studio area set up within the restaurant.  With completed artwork hanging on the walls (it's all for sale), and works in progress on easels, you actually feel like your gathering in someone's studio for food, drink, and conversation. Upbeat music plays throughout the restaurant, and you will occasionally see a musician wandering among the tables or getting set up to play in the corner. It's the uniqueness of the artists and the musicians that help move the restaurant from a predictable chain to a charming local watering hole.
The Orlando Tu Tu Tango opened in 1990. The menu, as at all the other locations, focuses on appetizer size share plates, with food and flavors from around the world. Prices range from $3 to $12.50, and are priced and sized reasonably enough for you try a variety without exceeding your food budget. After a few visits to Tu Tu Tango, I've developed a few reliable favorite combinations, although I still have a list of items I've yet to try. Here are a couple of menu combinations that I think work particularly well for sharing.
Light & healthy:  Start off sharing Roasted Pears on Pecan Crisps ($7, these are delicious and work well as dessert, too), have a bowl of black bean soup ($3) each, and share a Spinach Salad ($9). Total for two people: $22, not including beverages, tax and tip.
Meat Loving:  Share a Duck Confit Salad ($9), then add Oriental Marinated Steak Skewers $9), and some Cajun Chicken Egg Rolls ($10, and consistently the most popular menu choice). Total dinner price: $28.
Ethnic Variety:  Share some Tango Hummus ($4), a couple of orders of Sopa de Leon ($4), and share a smoked chicken Quesadilla ($7), then add some spiced Alligator Bites ($8).  Total dinner price $19.
A child's menu is also available and features more traditional "kid food."  A full bar is available, although I'd recommend trying the Tango Sangria or one of the specialty margaritas or mojitos.  And if it's hot weather outside, you can't go wrong with an ice cold beer.  Stop in for Tu Tu Tuesday specials, every Tuesday 9 pm-1 am.  The bar features live music, drink and food specials, including $3 mojitos, margaritas, martinis, and draft beer.
As you're enjoying your time at Tu Tu Tango, look around at the art on the wall.  The restaurant is proud of its "Starving Artist Program" which offers artists a place to paint, draw or sculpt in exchange for food. The art on the wall is sold, with all proceeds going to the artist, a true "will work for food" arrangement.
Location:  8625 International Drive, Orlando, Florida.
Hours:  11:30 am-11 pm, Sunday-Thursday, open till 1 am on Fridays and Saturdays.  Reservations not required, but are available through Open Table.
Dress:  Casual
Photo credit:  Author's personal collection