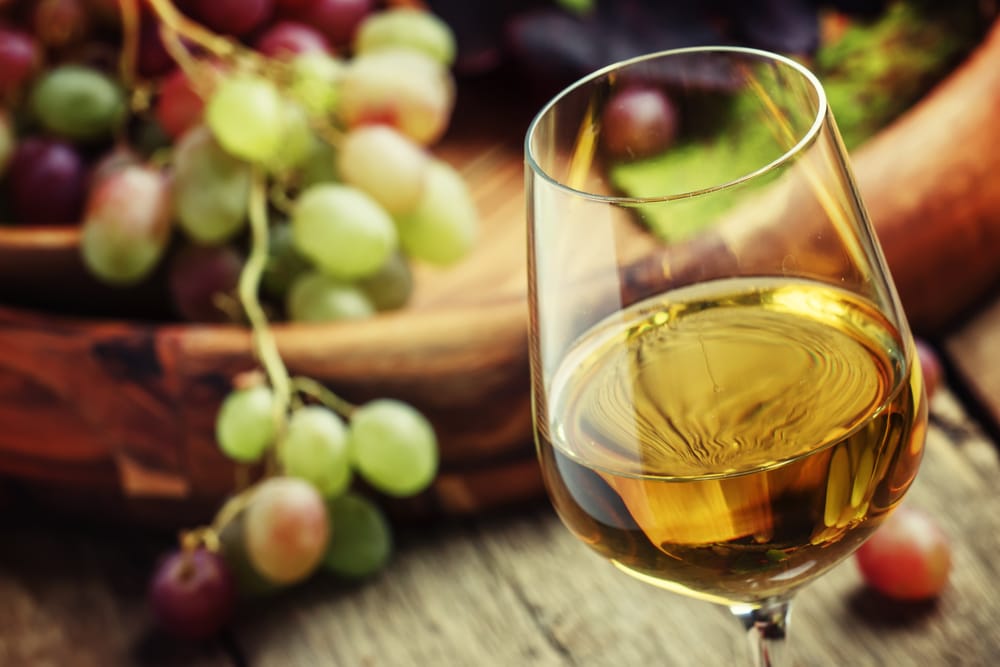 This virtual wine tasting features Kathie Pensinger, wine educator at Oak Mountain Winery in Temecula, California. It's our continued celebration of Temecula Valley Wine Month and we hope it entices you to discover wines from the region in southern California.
I learned so much during this tasting! From learning about the wine halo in the glass, to some simple wine etiquette. From learning about the winery's Cave (a wine cave? how fun) to tips that will help me choose wines that I'm most likely to enjoy. The evening was jam-packed with good information.
Watch a replay of the live tasting below.
We also have the episode available in an audio format. You can listen directly from the player below.
Or, we're also set up on the major podcast player platforms and you can listen and or subscribe to this virtual wine tasting series there.
Now let's get on to the tasting!
Tasting: 2019 Oak Mountain Sauvigon Blanc
Tasting Notes: The wine opens with complex aromas of lime leaf, pink grapefruit, green apple, lemon grass, honeysuckle, and wet stone. Refreshing, forward, zesty flavors of lime, lemon, grapefruit, white peach, and passion fruit follow with bright acidity.
Our Thoughts: Both Tony and I picked up on the grapefruit notes and flavor quickly, but he noticed more of the other citrus notes than I did. It was a pleasant enough wine, but I didn't enjoy it enough to drink it on its own. I'm going to take Kathie's advice, though, and pair it was a pasta in cream sauce (I make a mean chicken fettucini) and see if that creates a better balance for me.
Check out the 2019 Oak Mountain Sauvignon Blanc here. $24.
Tasting: 2016 Temecula Hills Estate Syrah
Tasting Notes: Ripe and intense, flavors of blackberries and black cherries are married to the caramel overtones of the oak. Complex & full-bodied, the wine pairs well with grilled pork loin or rack of lamb. Goes great with Camembert cheese.
Our Thoughts: I'm a sucker for a 100% syrah and this one was no exception. Tony enjoyed this one as well, although syrah is not his typical first choice. He picked up on the black cherry aromas and flavors while I noticed the berries. For the life of me, I can never tate black cherry. The syrah was pleasant enough on its own, but tonight we're pairing it with a roast pork loin and I'm curious to how it matches up.
Check out the 2015 Temecula Hills Estate Syrah here (I was unable to find the 2016 online). $49.
About Oak Mountain Winery
Oak Mountain Winery is located at 36522 Via Verde, Temecula, California. The winery is dog friendly.
They offer tastings, tours, and dining, with seasonal menus in their Cave Cafe. The food selection also includes a doggy menu, so neither you nor your pup will go hungry.
Stay local in Temecula and make wine tasting easy.
More Virtual Wine Tasting
How does virtual wine tasting work?
Our guests provide us with the wines they have selected and we sip and taste in real-time during the virtual tasting. Quite often, participants joining us have ordered the wine selection so they can taste right along with us. Equally often, however, participants join the event to learn more about the wine, winery, geographic area, or wine tourism.
Everyone is welcome, you do not need to be experienced about wine. And it's free – although sign up is required. Find information about our upcoming virtual tastings, along with our past events here.
Pin to your favorite wine tasting Pinterest boards and plan a trip to Temecula soon!