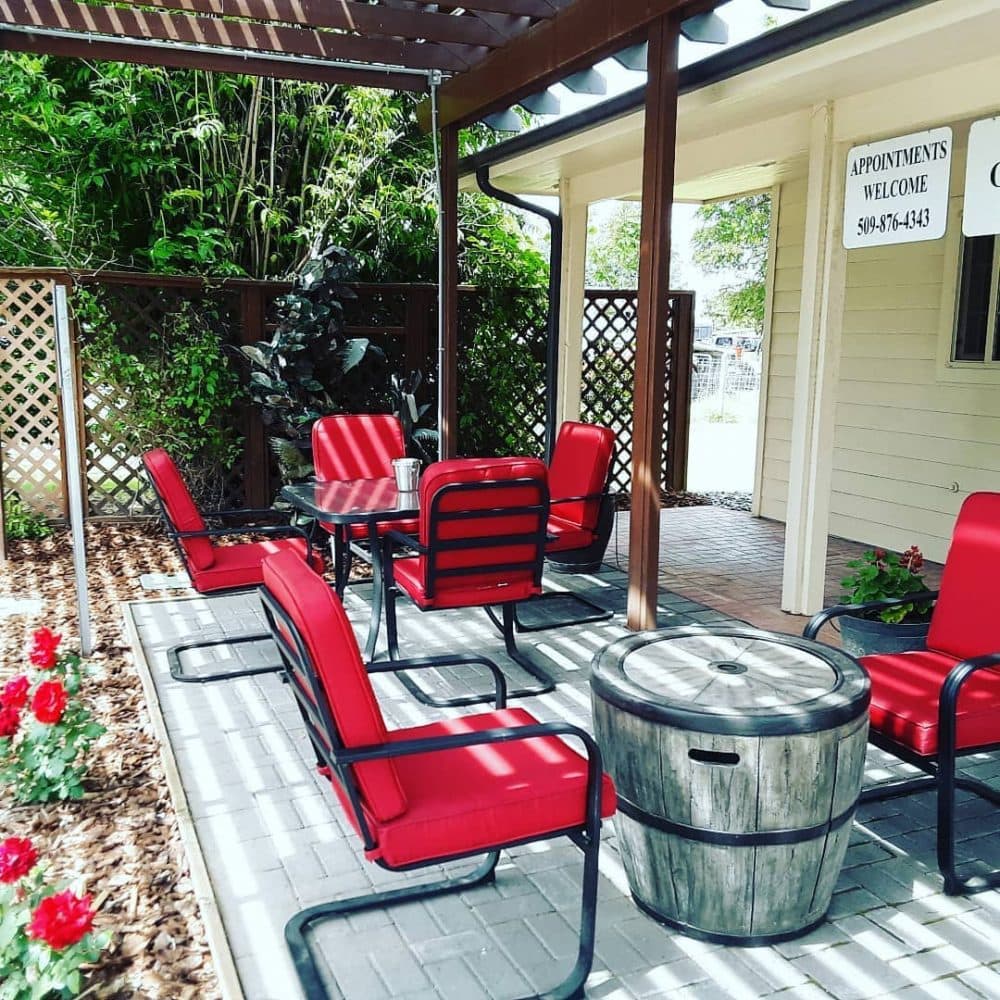 This virtual wine tasting features Jodi and Josh Rosnowski from Smoky Rose Cellars in Walla Walla, Washington.
We had some technical difficulties (user error) and despite our best efforts, we are unable to resuscitate a playable video or audio version of the virtual tasting. We're gutted about this, it was a fun conversation and tasting, and will be trying to put together a follow up recording to post here later.
Smoky Rose is a family-owned and operated business. Josh, a retired Air Force meteorologist is the winemaker and vineyard manager. Jodi, a food microbiologist, runs the tasting room and events side of the business. Sister Amy, currently a Cobra Helicopter pilot wth the USMC, is poised to jump in once she retires. Mom and Dad, Jill and Bill, help out with everything from harvest, errands, retail, and anything else that's needed.
Daughter Rose (who gets billing in the winery name) may only be 10, but rumor has it she plans on taking on her dad when it comes to winemaking skills. Watch out for her a few years down the road. Dog Smoky, now deceased, is the other family member for whom the winery is named.
Let's talk about the wine we tried (provided to us by Smoky Rose Cellars)!
2019 Viognier
Tasting Notes: Beautifully aromatic with notes of the tropics, this wine will instantly take you on an island adventure! Light gold in color, the nose translates brilliantly onto the palate with flavors of ripe bananas and pineapple balanced wonderfully with a hint of minerality. The lingering finish will have you planning your next vacay somewhere with an ocean view.
Our thoughts: I really liked this wine, despite it veering a little to the sweet side. Although I didn't notice tropical aromas, I definitely tasted pleasant pineapple notes when drinking. This is a stronger white than I'd relegate to afternoon sipping on the deck. though, and I think it would pair well with some grilled shrimp and scallops. This white was a little too sweet for Tony's preferences, although he stilled enjoyed it (and I think he'd like it more with a proper pairing).
Check out this Viognier here. $25.
2018 Reserve Grenache
Tasting Notes: Special from day one and the only wine deemed worthy of the title Reserve, our Grenache opens with notes of cinnamon, garrigue, dried red fruits, and grasses with hints of sandalwood. Wonderfully rich on the palate, the ruby-red color promises flavors of a strawberry, cranberry, and raspberry compote with a bit of baking spice. A wine that istruly worthy of a special occasion.
Our thoughts: I don't often find 100% grenache, so this was a real treat. And it's easy to understand why Smoky Rose knighted it with a Reserve label. This was my favorite wine of the evening – a bit of spicy fruit with a smooth finish. Nothing overpowering, just all working together is a smooth balance. Delicious! Tony liked this one as well, just probably not as much as I did. We ordered another bottle for a special occasion.
Check out the Reserve Granache here. $38.
2018 Stinger 71
Tasting Notes: 80% Grenache and 20% Syrah! Amy [Josh's sister] is a huge fan of the Rhone region the wine was named after her number in the squadron when she flew Cobras. This wine shows off with a lovely red-purple plum color and aromas of butter, currant, bramble, leather, and dry cedar. Full-bodied with small, round tannins, Stinger71 has flavors of black currant, espresso, Hawthorne, and quince with a mouthwatering, bright finish that leaves you longing for another sip.
Our thoughts: This was Tony's favorite wine of the evening. He thought it was big and bold, providing plenty of chew without losing its smoothness. I agree. I noticed buttery leather aromas, sort of like a well-loved tack room. Paired with a grilled steak, this would be heaven. and we order a couple of bottles.
Check out the Stinger 71 here. $35.
About Smoky Rose Cellars
Smoky Rose Cellars is located at 2428 Heritage Road, Walla Walla, Washington. This is known as the West Side wine district of Walla Walla.
Like many businesses right now, Smoky Rose is open, but operating under limitations regarding social distancing. Check their website (here) or call for current information about pick up, delivery, and in-person wine tasting.
The Walla Walla winemakers are a pretty close group, supporting one another in a way that brings success to all of them. If you want to learn more about wine tasting in Walla Walla, you'll also enjoy this virtual tasting with Eternal Wines.
Find a great place to stay in Walla Walla —
More Virtual Wine Tasting
How does virtual wine tasting work?
Our guests provide us with the wines they have selected and we sip and taste in real time during the virtual tasting. Quite often, participants joining us have ordered the wine selection so they can taste right along with us. Equally often, however, partipcants join the broadcast to learn more about the wine, winery, geographic area, or wine tourism.
Everyone is welcome, you do not need to be experienced about wine. And it's free – although sign up is required. Find information about our upcoming virtual tastings, along with our past events here.
Pin to your favorite wine tasting Pinterest boards and plan a trip to Walla Walla soon.