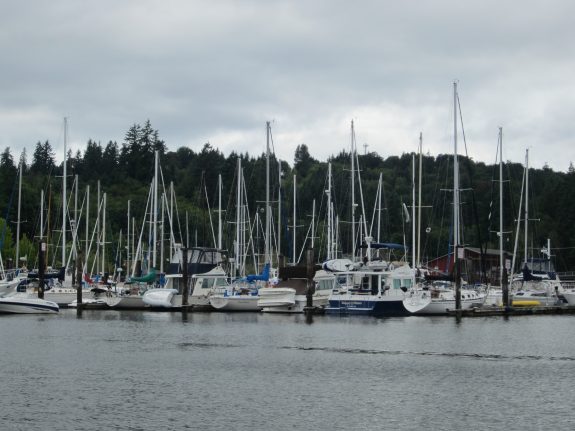 The Pacific Northwest town of Gig Harbor, Washington, is located across the Tacoma Narrows Bridge from Tacoma and is about a 45-minute drive from Sea-Tac Airport. The town has taken its rich history of commercial fishing and boat building and turned its downtown area into a historic waterfront community that attracts visitors with its galleries, parks, public and private docks and marinas, shopping, and dining. It is also one of the many small towns that promote itself as the gateway to Olympic Peninsula.
It's easy to think of Gig Harbor as a summer destination, and it is a great one, but don't overlook the value that can be found in the shoulder or offseason. Fall is a beautiful time in the area, sunny and crisp days, but the rainy season means fewer people and lower prices.
Things to Do
Enjoy a Festival – Despite its small size, Gig Harbor offers year-round festival options. My personal favorite is the Harbor Wine and Food Festival held in July. Try the Paddlers Cup (which also includes Dragon Boat Races) in the spring, Tidefest Arts Festival in December, or the Gig Harbor Film Festival in October.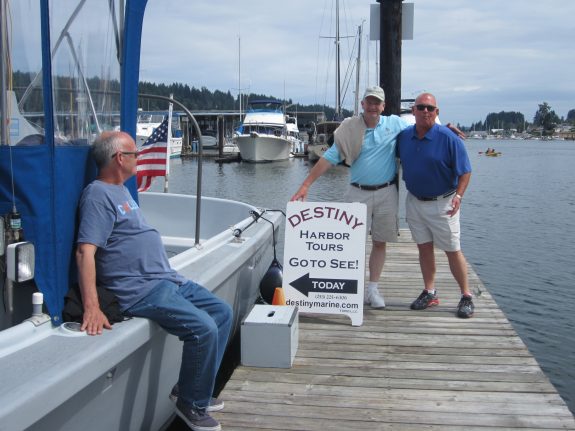 Take a Tour by Water – Destiny Harbor Tours offers two-hour boat tours departing from the dock next to Anthony's restaurant and touring Gig Harbor, Narrows Bridges, Salmon Beach and Pt. Defiance. Tours are offered daily June through September, and year-round by appointment or charter. If you're lucky you'll spot some bald eagles, seals, or otters. At a minimum, you'll get a different view of the area from the water.
Learn about the Netsheds – Netsheds were simple building, often built with rough, hand-hewn fir, were used by local fishermen to store nets and fishing gear. They were first built in Gig Harbor around 1910, eventually displaced by new development. Only 17 netsheds remain along the western shoreline, and Gig Harbor Bay has the largest number on the Puget Sound. You can do a self-guided tour of the netsheds using this map.
[tweetthis]For a Washington State getaway weekend, #gigharbor offers choices all year round. [/tweetthis]
Do the Art Walk – Held on the first Saturday of every month, 1-5 pm, along the downtown waterfront.
Get out on the Water – This is a harbor after all, and that means there are plenty of water-related activities to choose from. Pacific Northwesterners are a hardy bunch, which means we enjoy some of these activities year round. There are several marinas in the Harbor, and if you're lucky enough to be invited aboard, be sure to say yes. If not, there are numerous boat rental options ranging from rowboats to canoes to classic boats, as well as boat charter options. You can even go for a gondola ride. The harbor is also perfect for SUP, snorkeling (use a wet or dry suit, the water is cold), and beachcombing.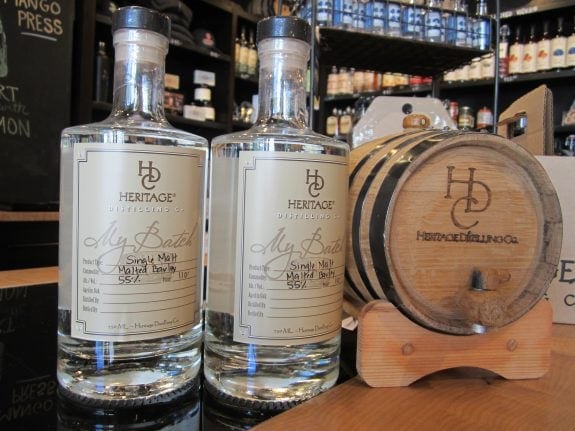 Distill your own Craft Spirits – Heritage Distilling offers Book Your Batch sessions that allow you to distill your own whiskey or vodka and take it home in your own little cask. If you don't want to make your own, you can sample the numerous choices to find a special selection to remind you of your visit to Gig Harbor. The distillery is located near the Inn at Gig Harbor, just off Highway 16, tours are available by appointment. There is a tasting room downtown.
Taste the Freshest at the Farmers' Market – You might be surprised at the fresh local produce you can find here all year round. Use this harvest schedule to get an idea of what is likely to be in season when you visit. The market offers fruits and vegetables, herbs, eggs, and meat.
Discover more at the Harbor History Museum – This state-of-the-art, seven thousand square foot building, showcases award-winning exhibits, a historic schoolhouse and maritime vessels, family-friendly programs and events, and hands-on learning and exploration for all ages. You might think that a small town museum doesn't have much to offer; you'd be wrong.
Where to Stay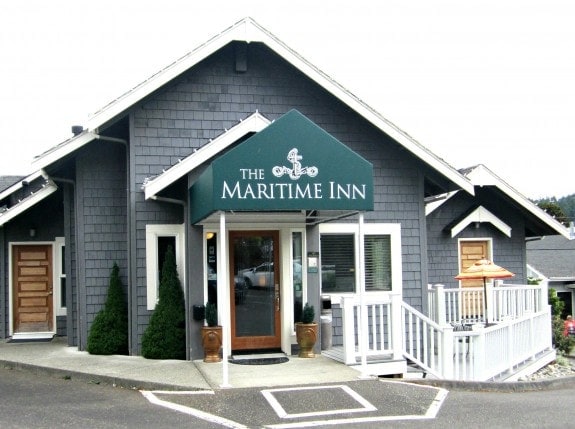 The Maritime Inn – The Maritime Inn pays homage to the town's shipbuilding history, naming each of its 15 rooms after historic vessels that operated in the local waters. You'll find a photo of your vessel inside the room. The Inn is located in downtown Gig Harbor, with rates running about $130-200 per night and include a complimentary breakfast bar; packages that include wine, dinners, and more, are also available. Summer is high season, and it's a lovely time to be in the Harbor, but don't overlook off-season bargains. This is one of the most convenient locations for the downtown area as most everything is within walking distance. Read my review of the hotel here.
The Inn at Gig Harbor – Located just off Highway 16, the Inn is about 15 minutes away from downtown. The Bremerton-Kitsap County Airport offers direct service to Sea-Tac, and from June-September, the Pierce Transit Trolley offers a daily shuttle, June-September, to the downtown waterfront and to uptown shopping. There is also a car rental on site. Fall rates start at around $135 per night and include a complimentary hot breakfast.
Best Western Wesley Inn & Suites – Located about a half mile from downtown, this chain hotel offers a very unchain-like stay. The rustic garden setting feels almost residential and is the only hotel option with an outdoor pool and spa. Rates at this family and pet-friendly hotel start at around $115 per night and include a hot breakfast.
Gig Harbor also has a few bed and breakfast along with Airbnb options. Prices are comparable.
Where to Eat and Drink
Heritage Distilling – I've already mentioned their distilling program at corporate headquarters, but the downtown tasting room is worth a visit to learn just what can be done with spirits. Take home some bacon flavored vodka to use in your next Bloody Mary; the citrus vodkas go great with soda.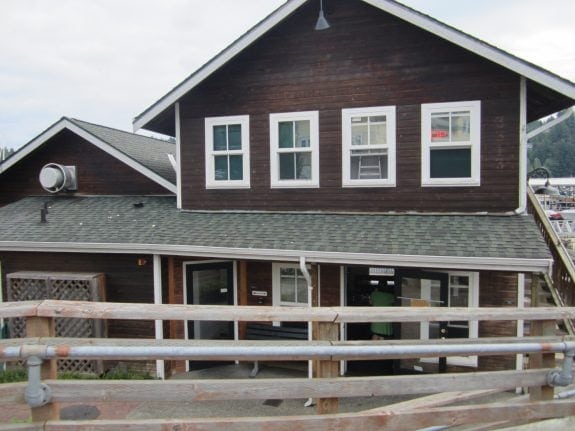 Throw calorie caution to the wind with a skillet of house-made cinnamon rolls for breakfast at NetShed No. 9. The name dates back to the Croatian fisherman who used netsheds to house their fishing boats, nets, and equipment, and you'll find it on the netshed map previously mentioned.
A longtime favorite of mine is Il Lucano for Italian food. Their bruschetta is some of the best I've had outside of Italy (and my own kitchen). The Pollo Gorgonzola is always a hit with the table, and if the Osso Buco is on the nightly special list, don't pass it up. There's nothing pretentious about the menu or the atmosphere, and you'll usually find a room full of locals.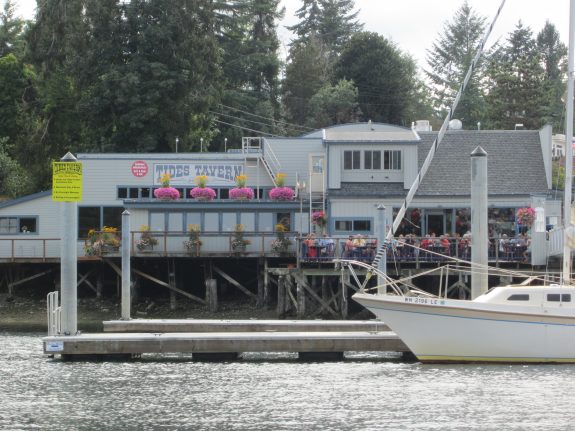 Loud and raucous, the Tides Tavern is a favorite with locals who pull up to the dock on their boats. Sports are always on the television, conversations are always loud, and it's usually crowded. Menu favorites are burgers and halibut and chips. Most people love it, I think it's only so-so. 21 and over only.
Lunchbox Laboratory is another burger spot. They're always trying interesting combinations of ingredients for burgers, sandwiches, and sides, supplementing the usual menu with limited menu experiments. Their shakes are both adventurous and delicious as are their cocktails. Although they have delivery service available at their other locations, it's not yet made it to Gig Harbor. Here's hoping that changes soon, because ordering in a great solution after a long day when you just can't manage to get out the door for dinner.
Brix 25 features a menu with seasonal offerings and it changes often. It's about as upscale and gourmet as it gets in Gig Harbor, but it's still casual and not fussy. They also have a craft cocktail selection with lots of unusual choices.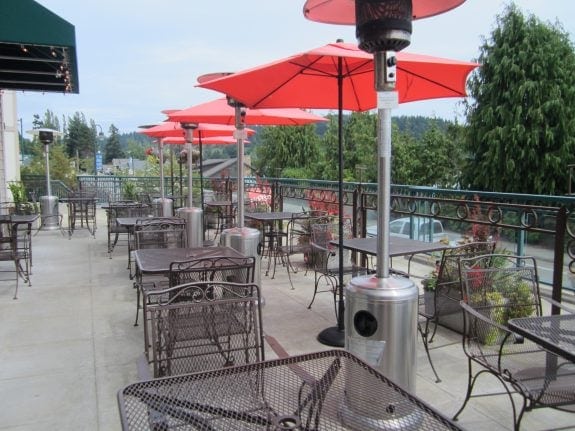 Morso's Wine Bar makes a nice respite on a busy day and has outdoor seating when weather permits. It's a more energetic walking distance away from downtown, so if the weather is poor you might want to drive. My favorite choice is a charcuterie plate with a glass of wine, prosecco in the warm weather and a Malbec when rainy. They have an extensive, and ever-changing, wine list and are well informed on the choices.
For a romantic dinner, try JW, located adjacent to the Harbor History Museum. Casually upscale, the menu changes frequently. The flatbread appetizer is a tantalizing blend of sweet and savory, and you can't go wrong with the lobster mac 'n' cheese.
In a twist that I still haven't been able to figure out, 7 Seas Brewing has created a family-friendly establishment. Adults can try a beer tasting sampler, and families can bring their own food and enjoy a beer to complement their food selection while enjoying a kid-friendly activity area. I don't understand it, but it seems to work.
Getting to Gig Harbor
Visiting Gig Harbor will be far more convenient with a car than without, although with airporter service and Uber, the latter is possible.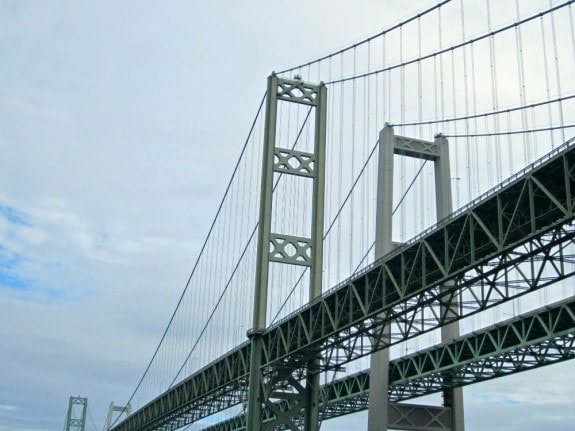 From I-5, exit onto Highway 16 west, crossing over the Tacoma Narrows Bridge. The bridge has a toll (currently $6) heading east. Take the Wollochet Drive Northwest exit off of 16 to get to downtown Gig Harbor. Take the Olympic Drive Northwest exit off of 16 to get to Inn and Gig Harbor and Heritage Distilling. It about a 50-minute drive from Seattle, about 45 from the airport, and about 20 minutes from Tacoma.
Love to travel? Pin these to your favorite Pinterest boards.