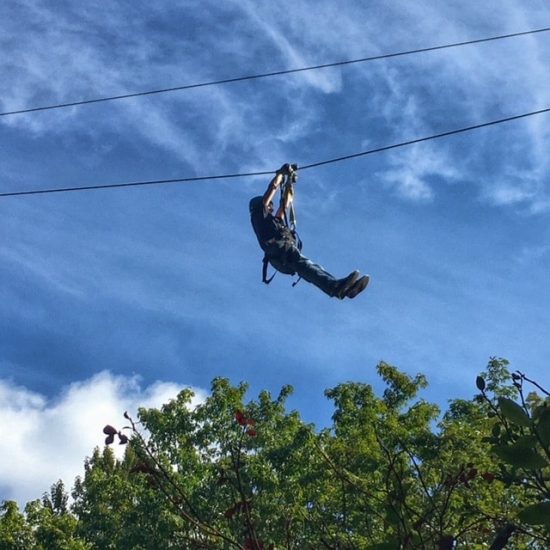 Adventure travel is a hot travel niche these days, although perhaps for the Baby Boomer generation it trends a little more to the soft adventure than the rugged.   And often, those busy adventure days are followed by a nice glass of wine, good meal, and a comfy bed.  After all, there's nothing wrong with wanting our adventure and a little luxury too.
So what's trending on the soft adventure landscape?
Ziplining – A few years ago the only place I was hearing about ziplining was in the rainforest.  Now it's gone mainstream, with zipline adventures offered at resorts, zoos, eco-lodges, urban areas, and more.
Horseback riding –It's not just a ride down to the bottom of the Grand Canyon anymore.   You can ride on the beach or in the hills or a park.  Take an early morning ride, or enjoy it at sunset, combine with an eco or sightseeing adventure, or just enjoying riding for the pure relationship between you and your horse.    You can head off for a ranch for a City Slicker-style experience, or combine horseback riding and wine tasting,
Viewing wildlife – Safari holidays aren't just in Kenya anymore.  In fact, you can choose a wildlife adventure in Africa, Asia, or Latin America. This adventure travel option has become very popular with affluent baby boomers.
Rafting – While many Baby Boomers may be past the point of wanting a White Water Category 4 or 5, there are still lots of fun, recreational options.  Whether it's float trips, rafting wine trips, enjoying a national park, or just cooling off on the water, it remains a popular sport.
Kayaking and canoeing – Fun day choices that can be combined with other activities.  Canoeing and camping combine for a great week trip, and that camping doesn't have to be roughing it.  Kayaking need not be in a churning river but can be done nearly anywhere you can find a spot of water.
Hiking – One of the easiest adventure activities around, hiking can be done nearly anywhere and in nearly any type of weather.  While most of us aren't going to climb the face of a mountain, there's nothing like a brisk hike, taking us to a spectacular viewing area, to give us a travel high.
Trekking – A little more advanced activity level than hiking, trekking is merely going places on foot that you cannot reach by other transportation.  You're not blazing the way, but sticking to trails and doing a lot of walking.  Think of it as hiking for lots of days.  You may be carrying everything yourself or you may have the use of a sherpa, and your overall fitness level and budget will help shape your trekking choices.  Nepal is one of the most popular areas for trekking.
Diving – While the Great Barrier Reef may be the ultimate dive spot, there are plenty of other great diving spots around the world.  Find a coastline and chances are you've got dozens of choices to make. Warm water diving seems to win out over cold water, though, so the Caribbean, Hawaii, Florida, and Southern California are all popular diving spots.  And if you're not ready to go deep, there's always snorkeling.
Jeep and ATV Tours – I think of this as hiking for vehicles.  Seriously, though, you can rent a vehicle and do this on your own, or join up with a tour for a group experience.  It's happening in the dunes, the jungle, even the [amazon_textlink asin='1742207251′ text='Grand Canyon' template='ProductLink' store='travelingwithmj-20′ marketplace='US' link_id='887eb485-5c89-11e8-ae0a-0d4c535cd034′].
Glamping – A little bit camp and a little bit glamour, glamping has become the buzzword for bragging that your camping, but still enjoy a little luxurious glamour.  Think fully outfitted [amazon_textlink asin='B01NBI4WLN' text='Bedouin tents' template='ProductLink' store='travelingwithmj-20′ marketplace='US' link_id='95ace1cb-5c89-11e8-8296-598e5451e15f'] in the desert (complete with chef and a staff), fully appointed yurts, tree houses that rival any view home that you've ever seen.  Sure, you could make it sound like you're roughing it – but we know you're not!
These are the trends that I see in adventure holidays, and a few of them are on my to-do list (ziplining, a safari, and glamping in some exotic locale).
How about you?  What's on your soft adventure travel for baby boomers list?