The history of the renowned Aperol spritz cocktail can be traced back to the mid-1950s, although the hero ingredient was developed some thirty years prior. In this article, you will learn about the history of this refreshing delight, the role it plays in Italian culture, and its ever-increasing popularity around the world.
I've also got a classic Aperol spritz recipe so you can make it at home, along with a few specialty variations that can be used to change up the classic cocktail and as well as options to make other spritz cocktails. If you've never experimented with making Aperol spritz or other forms of spritz cocktails, you will be more than equipped to do so after navigating through this article.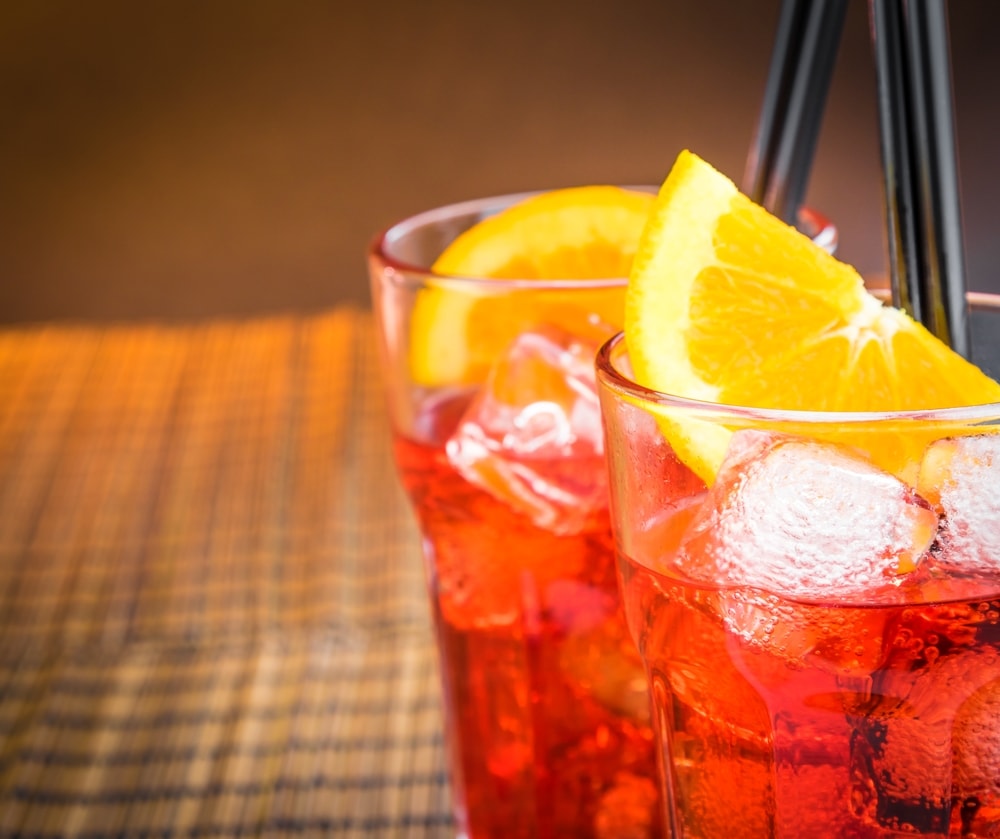 History of Aperol
In 1919, two Italian brothers, Luigi and Silvio Barbieri, were on a quest to create a new style of Italian aperitif that was both lighter in style and unique to Padua. They first showed off the bitter aperitif at the Padua International Fair, which was an annual trade event with a dedicated food, travel, and lifestyle element.
The style of bitter aperitif was made up of a unique blend of herbs and botanicals, with gentian, rhubarb, and cinchona making up the main ingredients. The name was derived from the word "apero", a local Italian slang word for Aperitivo.
It wasn't for another thirty-something years that this Padua International Fair hit was turned into what we know as the modern Aperol Spritz.
Birth of the Aperol Spritz
The concept of a German Spritzen was introduced in the 1800s after Austro-Hungarian soldiers found Italian wines to be too strong. They would water down the wines in order to be able to comfortably enjoy them.
After enjoying the subtly bitter and herbaceous pre-dinner drink for almost a third of a century in Padua, the birth of the Aperol Spritz happened in the 1950s. Inspired by the German word "spritzer" which translates to "splash", two parts of the orange-colored liquid are mixed with three parts of Italian Prosecco. One part of soda is then added to complete the Aperol Spritz cocktail.
After a television advertisement showcased the recipe for the Aperol Spritz, it became an increasingly popular lunchtime and pre-dinner drink. The gentle, sunset-like hue, along with a powerful 3-2-1 marketing campaign, boosted the popularity of this Italian cocktail at home in Italy as well as around the world.
Italian Cultural Significance
Since its inception midway through the 20th century, the Aperol Spritz cocktail has become engrained in Italian culture. Because of its low-alcohol characteristic, it's a perfect cocktail for long Italian lunches or for the cultural ritual of aperitivo in the evenings. The idea behind this post-work pre-dinner drink is to, directly translated from Latin, open the stomach. In other words, prepare yourself for dinner to come.
Aperitivo is to Italians what bread is to the French and the Aperol Spritz is now a common sight at these early evening gatherings. These refreshing cocktails combine perfectly with small plates of little snacks known as cicchetti. You can usually find the likes of crostini, arancini, a selection of olives, and charcuterie at an aperitivo, which are all typical (and delicious) pairings for aperitivo hour.
Spritz cocktails can now be seen all over Italy, from their birthplace in Padua all the way down along the Italian Riviera and the Italian coastal towns, as well as in the larger cities and rural areas. We drank Aperol Spritzes in Contignano (a small town of about 300), in Pienza looking overlooking the rolling hills of Tuscany, sitting lakeside in Bolsena, wandering on Elba, and everywhere in between. While it's been a few years since we visited Italy, I don't recall seeing the spritz seemingly everywhere.
Luigi and Silvio Barbieri could never in their wildest dreams have imagined how popular their creation would become!
Worldwide Popularity of the Aperol Spritz
As the Aperol Spritz cocktail increased in popularity at Italian aperitivo, so too did it start to gain in popularity throughout the world. As tourists descended on the country, they were introduced to the Aperol Spritz. The upward trajectory of popularity began.
You can go into a bar or restaurant anywhere in the world today and be able to enjoy one of these spritz cocktails as a lunchtime cocktail or evening sundowner. Unfortunately, the aperitivo culture is not normally present where we live, so we plan to recreate the Italian experience at home by serving it with our version of a charcuterie plate.
Aperol has become the best-selling spirit in Italy, and the Aperol Spritz continues to expand its popularity throughout the world. Luigi and Silvio Barbieri could never in their wildest dreams have imagined how popular their creation would become!
The Recipe
This is one of the easiest cocktail recipes around! All you need to remember is how to count down 3-2-1.
3 parts of Prosecco
2 parts of Aperol
1 part of club soda or other unflavored sparkling water
Pour all ingredients into a large wine glass filled with plenty of ice and serve. Pour the Aperol first, add the Prosecco, and finish off with the club soda. For spritzes for a group, mix in a pitcher and pour into individual glasses. In Italy we found spritzes served in wine glasses, tumblers, and even plastic cups with lids.
For a deluxe cocktail experience, garnish with an orange wedge, a dried orange slice, an orange peel curl, or a sprig of rosemary. (We often skip the garnish at home.)
That's it.
For one serving, use ounces as your measurement (3 ounces Prosecco, 2 ounces Aperol, and 1 ounce club soda). For a pitcher, use one bottle of Prosecco, two cups of Aperol, and one cup of club soda. If making a pitcher of spritzes, put the ice in the glass rather than the pitcher. Drink (or serve) your spritz right away. It's a light, refreshing drink, but will lose its fizz if it sits over ice for too long.
Like all things, you'll need to account for your personal taste preferences. If it seems too sweet, go a little heavier on the ratio of Aperol to bring out more of the bitter flavors. If it seems a little weak, reduce it to a splash of club soda or omit it altogether. 3-2-1 is the original recipe and the starting point, customize from there until you create your perfect Aperol Spritz.
A word about substitutions. I stick to the original recipe. You can, however, substitute cava, another sparkling wine, French champagne, or even a non-alcoholic bubbly for the Prosecco. I prefer to use a dry Prosecco in the classic proportions.
Variations on the Classic Aperol Spritz
Although the Aperol Spritz cocktail has remained true to its roots and the recipe has remained primarily unchanged since its discovery, a few modern twists of the original have evolved.
Campari Spritz – Substitute Campari for the Aperol. Campari is one of the most bitter liqueurs used in a spritz and has a strong bittersweet flavor of orange peel, cherry, clove, and cinnamon. I'm not a fan of Campari, but if you are, you'll love this variation. Garnish with an orange peel.
Hugo Spritz – Substitute Elderflower liqueur for the Aperol. Garnish with a mint leaf.
Bicicletta Spritz – Substitute Campari for the Aperol and still white wine for the Prosecco. Garnish with an orange wheel.
Limoncello Spritz – Substitute Limoncello for the Aperol. Garnish with a lemon slice or sprig of mint.
Grand Spritz – Substitute Grand Marnier for Aperol. Garnish with an orange wheel.
Chambord Spritz – Substitute Chambord for the Aperol. You can also substitute still white wine for the Prosecco if desired.
Or, come up with something new on your own. The possibilities are endless, so customize your own summer happy hour drink (or sundowner as they say in Europe).
Final Thoughts
From humble beginnings in Padua (in northern Italy) to cocktail bars today, the Aperol Spritz cocktail continues to attract new fans. Because of its low-alcohol characteristics, it's the perfect lunchtime or afternoon drink when you are not in the mood for heavier alcohol options. It's also the perfect pre-dinner drink as it is both flavorful and subtly bitter, the best way to open your stomach for the coming meal.
This classic Italian cocktail is both light and refreshing, and although the very nature of the drink yells "summertime!", it can be enjoyed all year round. I've ordered it a few times since we returned from Italy (Tony was surprised to see it on menus wherever we were), and we're putting it into rotation at home. We'll be drinking it while watching our favorite movies set in Italy.
Grab a bottle of Aperol, Prosecco, and soda – don't forget the glasses, ice cubes, and slices of orange – and create this easy cocktail.
Sipping on an Aperol Spritz epitomizes that "gioia di vivere", or joy of life as it translates – the true meaning of life for Italians. And isn't that what life is all about?!
For Pinterest
Save to your favorite Italy or cocktail board – you're going to want to mix up a pitcher of these at home!