Situated 11 miles from the stunning Pacific Ocean coastline and in the heart of California's Central Coast wine country, San Luis Obispo is a natural magnet for visitors to Central California. Throw in a few hundred years of history, reflected in the city's rich and intriguing architecture, the influence of California Polytechnic State University, and a healthy Mediterranean-type climate, it's no wonder that San Luis Obispo is often referred to as "The Happiest Place in America."
Located in the center of historic downtown San Luis Obispo, the brick-faced Hotel Cerro provides a convenient location for exploring the coast or interior of Central California. This luxury boutique hotel is a few minutes' walk from many of the attractions of the city – trendy bars and restaurants – along with boutiques and gift shops that provide all the retail therapy you need. Nearby cities make for SLO a convenient stay for Central Cost wine tasting trips (and the Paso Robles wineries have some tasty offerings).
This luxury hotel also provides an idyllic getaway for locals needing to escape the rat race and indulge themselves in a little pampering without having to travel far. The hotel is pet-friendly, so you can bring your small dog along for some pampering, too.
Although exuding in elegance, Hotel Cerro still manages to retain a casual and warm atmosphere with design and decor that blends early Spanish, Mission, and California influences. With an extensive range of services and guest amenities, it's sure to surpass the needs and expectations of guests.
Let's take a closer look at why we loved our stay at Hotel Cerro and why we recommend it when visiting SLO.
Disclosure: Our stay at Hotel Cerro, along with a dinner and spa treatment, were provided to us complimentary in order to facilitate this review.
Accommodations
Guest rooms offer the choice of balconies overlooking the vibrant downtown area and the surrounding hills, or the tranquil Edible Garden that provides the hotel with organic herbs, fruit, and vegetables. These 350-400 square feet rooms have King or Queen size beds with premium bedding, and en suite bathrooms with illuminated make-up mirrors, plush bathrobes, and spacious walk-in showers.
We stayed in one of the spacious ground-floor garden suites that feature private patios. These 750 square foot suites have fireplaces, king platform beds, wet bars with a coffee machine, and a separate sitting area with a fireplace and flat-screen tv.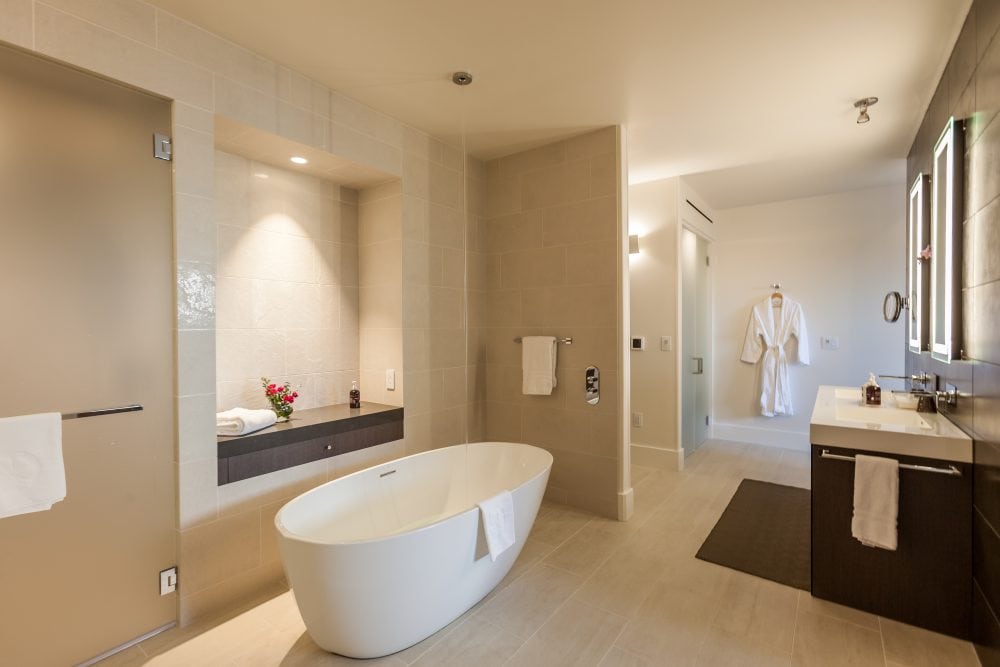 The en suite bathroom has a large glass-walled shower (opaque, no one will be looking at you), double vanities, a separate toilet area, and – my favorite – a soaking tub that fills from the ceiling. Yes, I spent an evening soaking in the tub with a glass of local wine and a book. Bliss!
Our outdoor patio had a fenced sitting area that had a gas outdoor fire pit, surrounded by padded benches perfect for lounging, conversation, and enjoying morning coffee or evening wine. It felt fairly private, although I think a couple of rooms on the upper floors could look down into our patio. We were always dressed, even if it was just in our robes or pajamas, and we enjoyed the outdoor seating area. The patio had a gate that opened out to the Edible Garden and was locked from the garden back to the patio, and I enjoyed a delightful stroll one morning accompanied with a cup of coffee. There's not enough to completely supply the restaurant, and I know I wasn't the only one that pinched a ripe cherry tomato, but as the garden matures, I think it will increase what it can provide.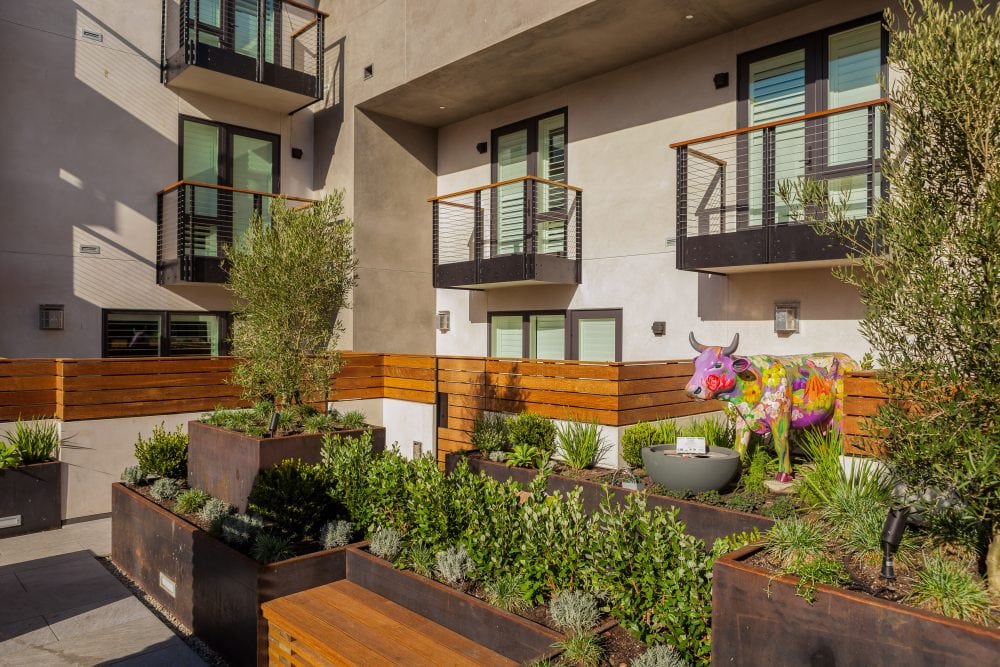 For guests not staying in a garden suite, the Edible Garden can be accessed through the second floor.
Penthouse Suites are available and offer more space, including a living and dining area that can accommodate six people. While our trip was a couples trip for wine tasting and relaxation – and the first trip for Tony in over 18 months – a penthouse would be perfect for anyone looking for family rooms. I also think it would be great for families who choose to travel for a holiday and want to arrange private catering in their suite.
All of the 65 comfortable rooms and suites come feature Bluetooth audio systems, HD Smart TVs, and free wifi which covers the entire property. You'll never have to worry about gadget connectivity. Filtered water stations are positioned on every floor with refillable water bottles provided in all rooms, making it easy to fill up before heading out for the day – and avoiding single-use plastic.
Dining
The wood-fired oven and grill of Hotel Cerro's on-site restaurant Brasserie SLO, one of the best San Luis Obispo restaurants. The restaurant serves a mouth-watering range of Mediterranean-style and California cuisine, showcasing the delectable local produce of the rich Central California coast and countryside. From upscale fine-dining dishes to casual comfort food, you'll be able to find options to fit your preferences.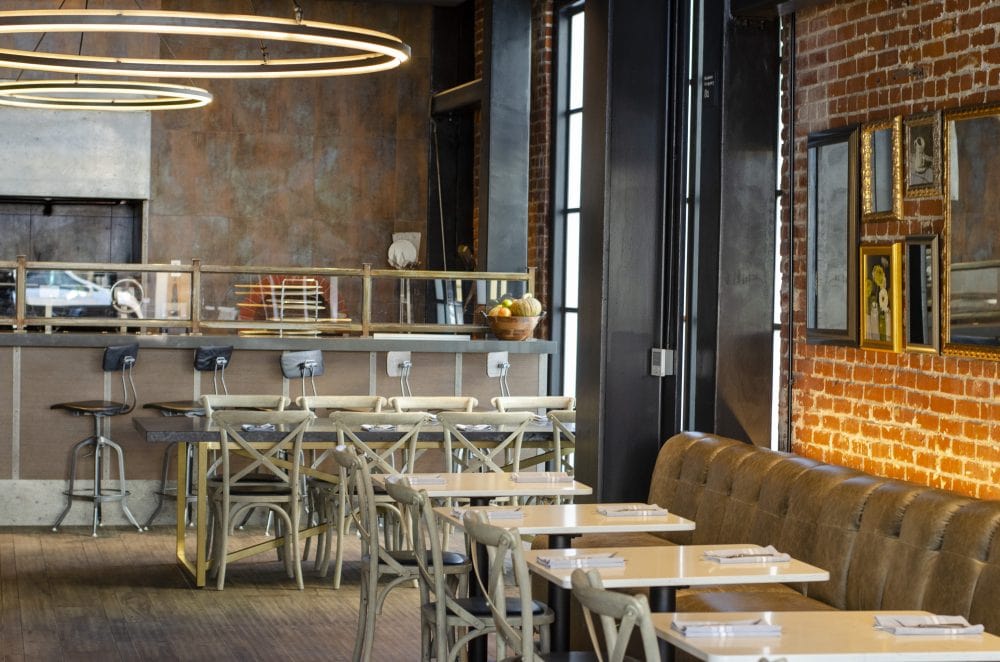 Since it's surrounded by vineyards and wineries, it's not surprising to see a nice assortment of area wines on the menu. Our server was helpful with both wine and cocktail selections. While I generally choose wine as my beverage of choice at dinner, there is a robust offering of specialty cocktails, including new twists on classic favorites, and Tony was glad he opted for that choice.
Dining is available in the main dining area or, as we enjoyed, al fresco is the Mission Fig Patio. If you want to head out from the hotel for a meal, the front desk is helpful with information that will match up with your preferences and is only a short walk, or a short drive, away.
Outdoor Pool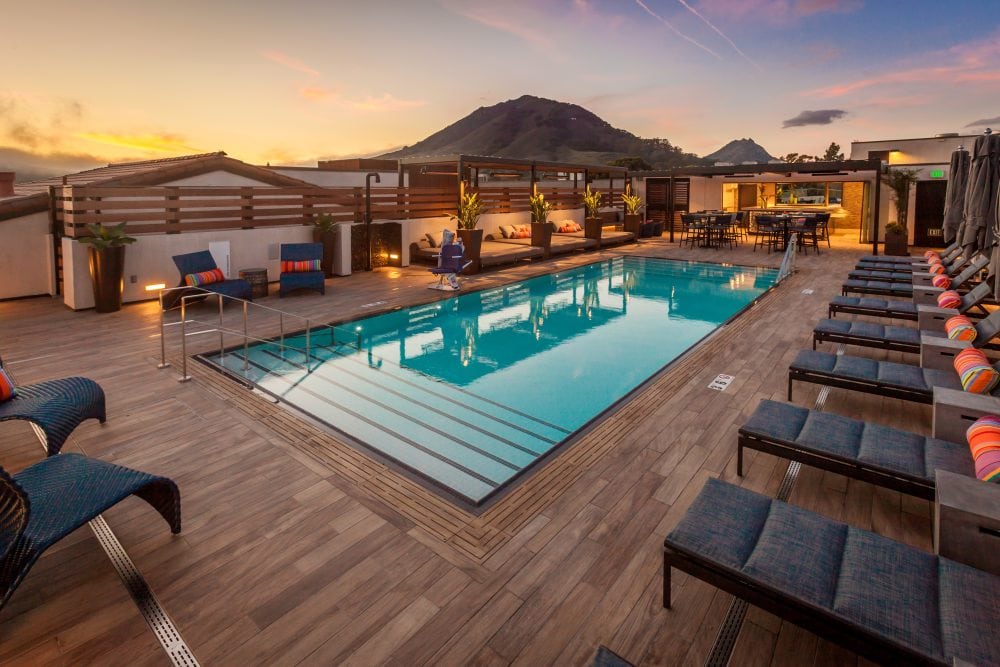 The rooftop deck is a perfect place to swim, sunbathe or just relax with a cocktail or a tasty snack lazing in the sun loungers on the luxurious rooftop terrace with an outdoor swimming pool. The water is great as is the view – a panorama of the city and surrounding hills of the Californian countryside. An intimate bar is at one end of the pool, with covered, protective areas, and a hot tub at the other. It's an intimate area offering both sun and shade options for lounging. We visited in early September and the temperature was just right for outdoor lounge time.
Spa, Wellness, and Fitness
If it's pampering you've come here for, Spa Cerro will have you spoiled with choices, offering selections of individual or couples treatment options. The expected facials, massages, and scrubs are on the service menu, along with detoxification, exfoliation, reflexology, aromatherapy, chromotherapy, and a multitude of other treatments I never knew existed.
I headed to the spa early, about half an hour before my facial appointment, just to ease into relaxation and get my head into spa mode. I highly recommend adding on extra time before and after a spa appointment to take full advantage of the experience. Although free wi-fi extends into the spa area, cell phones are not permitted in the spa relaxation and treatment rooms.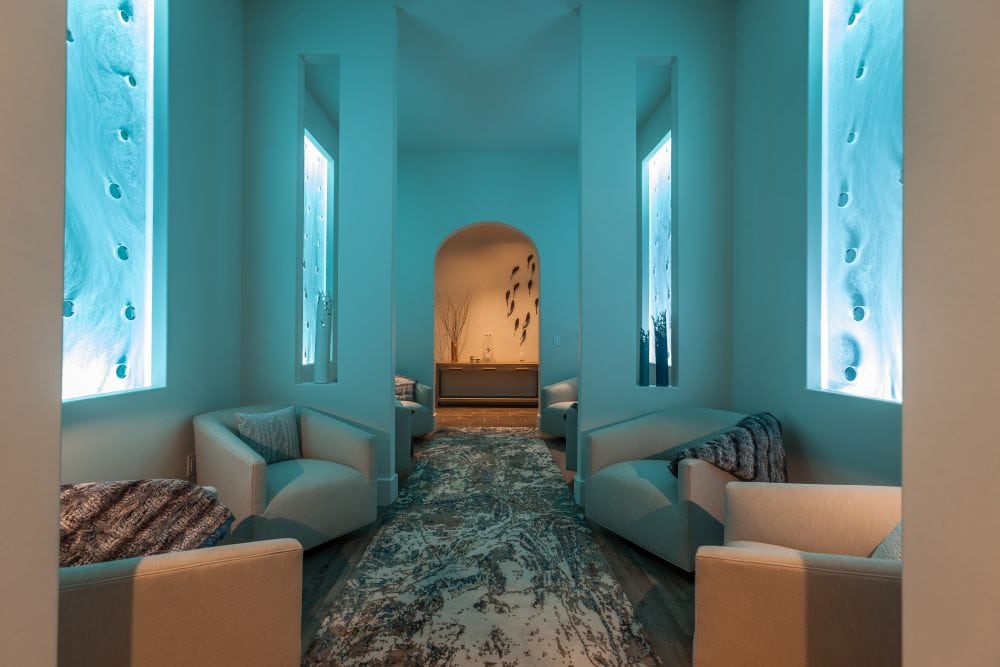 I opted for the Blue Poppy Organic Enzyme Facial. Described as: Advanced anti-aging with active, natural, cutting-edge peptides, organic grape stem cells, papaya, raspberry and mushrooms enzymes, blue poppy seeds, kombucha, and tea extracts to brighten and improve skin tone and texture, address signs of aging, sun damage, pigmentation, dehydration & breakouts. This facial will leave your skin vibrant, hydrated, and glowing.
It was a relaxing experience, my therapist asked about and understood my skincare concerns and needs, and best of all – while relaxing during the treatment, there was blissful silence. Think about that for a minute. A spa treatment should be soothing and quiet, not full of chatter, or worse – sales pitches for products or upselling. I was so appreciative of spa policies that promote soothing quietude.
For fitness needs, a full fitness center is at your disposal all day long.
Use of the spa facilities is included with treatments. Day passes are also available, based on spa occupancy, and include access to the locker rooms, spa robes and sandals, steam room, showers, quiet room, and light refreshments.
Rates
Spacious room prices at Hotel Cerro start around $325 per night. Special packages are available that provide promotional pricing for spa visits, extended stays, meal options, as well as a chance to sample local fine wines.
Book directly on the hotel website, or check rates on your favorite booking app.
Getting There
Hotel Cerro is located in the heart of San Luis Obispo at 1125 Garden Street.
If you fancy a road trip, SLO is a little over a four-hour drive from Los Angeles and a little under a five-hour drive from San Francisco. The nearest airport is San Luis Obispo County Regional Airport (airport code SBP), with flight service on Alaska Airlines (from Seattle, Portland, and San Diego), American Airlines (from Phoenix, and Dallas/Fort Worth), and United Airlines (from Denver, Los Angeles, and San Francisco). The airport is about 10 minutes from downtown.
For a perfect getaway weekend or special occasion romantic getaway, the Hotel Cerro is a luxury hotel in San Luis Obispo that checks off all my required boxes. We think you'll enjoy it, too.
Pin to your favorite hotel and travel boards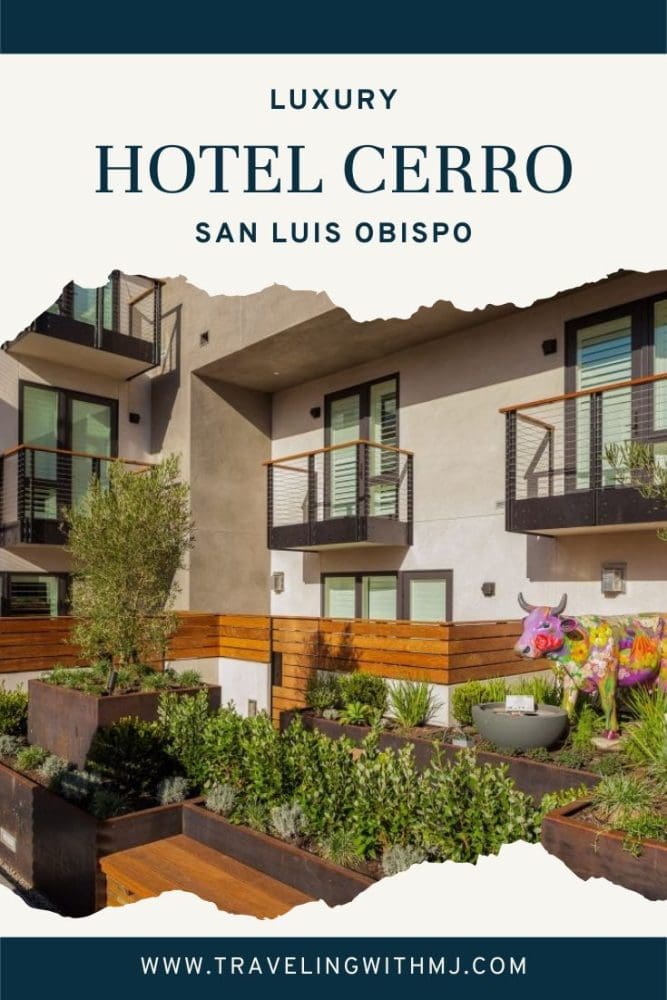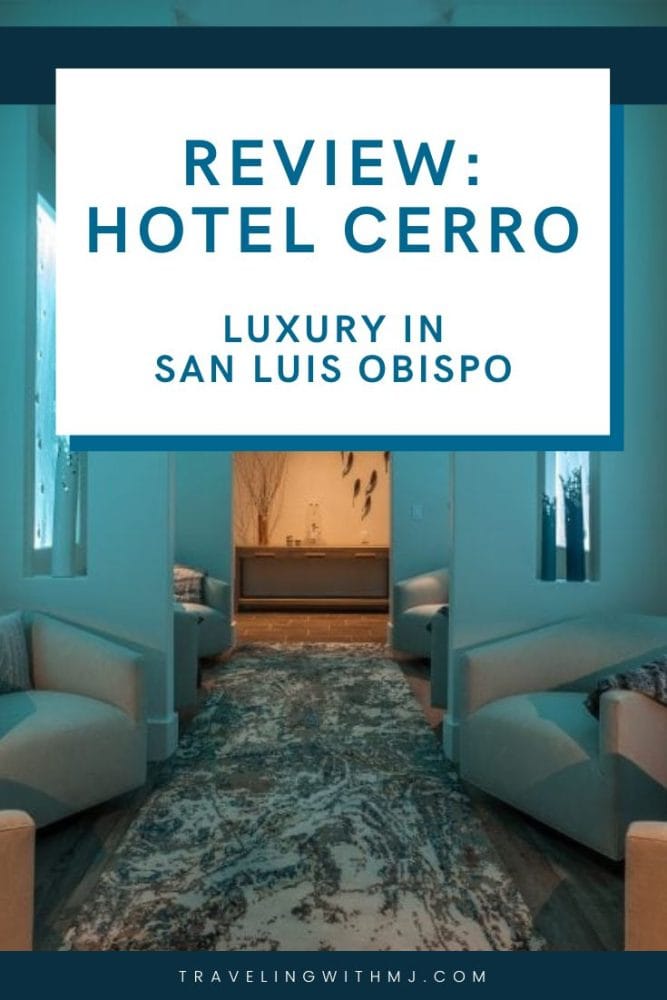 Disclosure: We received a complimentary stay at Hotel Cerro.
Photo credits: Courtesy of Hotel Cerro, Sarah Vernon, photographer. Used with permission.