Hotel Giraffe
Address:  365 Park Avenue South (at 26th Street), New York City
Value Luxury Rating:  



 (out of 3 hearts)
Features:  Located in the recently named NoMad area of New York City (North of Madison Square Park), Hotel Giraffe is conveniently situated between midtown and downtown Manhattan. The hotel, part of the Library Hotel Collection, offers a generous package of complimentary amenties including continental breakfast buffet each morning (served 7-10:30 am weekdays, and till 11 am on weekends), wine and cheese reception every evening (5-8 pm), wi-fi throughout the hotel, reading material (books, magazines, newspapers), DVD library, bottled water in guestrooms, and passes to New York Sports Club (various locations throughout Manhattan, closest one is three blocks away).
Price Range:  A search of room rates for April 2015, show rates starting at $287 night. Check for specials and promotional rates.
Personal Notes:  Hotel Giraffe was my home away from home for a couple of nights while I was in New York for a little sightseeing and for the NY Times Travel Show. The location is great, with easy subway access for getting around town (although if you're doing business at Javits, opt for a cab), and the many complimentary amenities offered make this a great value luxury hotel option.
[tweetthis]Here's why @HotelGiraffe is a value luxury hotel choice in NYC[/tweetthis]
With architecture and design from the Art Modern period of the 1920s-30s, and decor that centers around the graceful giraffe, the hotel offers spacious rooms and suites decorated with comfortable and contemporary couches and chairs.
We stayed in a suite with a livingroom area and bedroom with king bed. The living room was comfortable to work in, and a desk in the bedroom provided ample space to spread out, although electrical outlets limited, and inconveniently located. Bathrooms were large with upscale amenities, and I always appreciate a lighted makeup mirror and robe.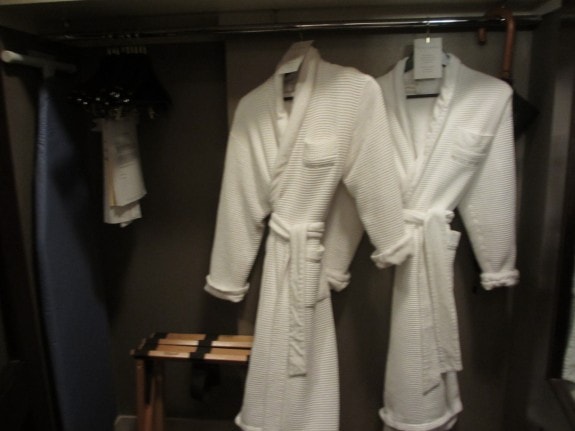 If you're traveling with a family, I'd suggest a suite. There is a sleeper sofa in the living area, they are reasonably priced, give you extra room to spread out, and it saves on tempers and frayed nerves when everyone has a little more personal space. Despite the location on busy Park Avenue, the room was quiet and the street noise didn't interfere with a good night's sleep.
One of the way Hotel Giraffe provides value luxury, is with its free amenities. We started each day with the breakfast buffet in the lobby:  oatmeal, hard boiled eggs, fresh fruit, assorted pastries, assorted breads and condiments, along with coffee drinks, tea, and juices. We were up and moving fairly early, and enjoyed a leisurely breakfast as we planned our day. If you'd prefer to lounge in your room and ease into the day, you can opt for breakfast delivery for a nominal service charge (currently $5).
If you need a respite throughout a busy day of sightseeing, the lobby offers complimentary coffee drinks, tea, water, fresh fruit and cookies throughout the day.
Come evening time, the lobby offers complimentary wine and appetizers. This is where we collapsed at the end of every afternoon, kicking back to relax before heading out for the evening's activities, enjoying a little piano music in the background. Appetizers were substantial enough to hold us over until a late dinner after the theater, and included an impressive assortment of cheese and crackers, fruit, and other nibbles.
There are so many restauarants in the neighborhood that you'll be hard pressed to make a choice. The concierge helped us with a casual choice one evening (Big Daddy's for burgers), provided information for a night at the theater (we saw Mamma Mia), and helped with subway navigation.
If you don't want to head too far for an evening out, try Bread & Tulips right next door. Serving a rustic Italian menu in a casual setting, you'll find a simple, but tasty selection of pasta and pizza. Pick up a pizza to go and enjoy movie and a pizza in your room. Guests of Hotel Giraffe receive a 20% discount when dining in the restaurant.
My stay at Hotel Giraffe was during the winter, but I still ventured up to the Rooftop Garden. Tables and chairs, a metal giraffe, and snow were what we found, however, it looks like a wonderful place to enjoy a beverage and watch the sunset during warmer weather. During the day, the Rooftop Garden is open to hotel guest only, but come evening, it is open to the public as a rooftop bar. I'm putting this on my to-do list for nicer weather.
While hotel rates in New York City may be well above the average in your hometown, you can maxmize your travel budget by making a value luxury choice – choosing a hotel that gives you a lot of extras for your lodging dollar. With all the extras offered at the Hotel Giraffe, it's a no-brainer when it comes to family value, and is still a solid choice if you're traveling as a couple or with friends.
I recommend Hotel Giraffe highly – give it a try on your next visit to NYC.
Disclosure:  My stay was partially hosted for the purpose of this review.