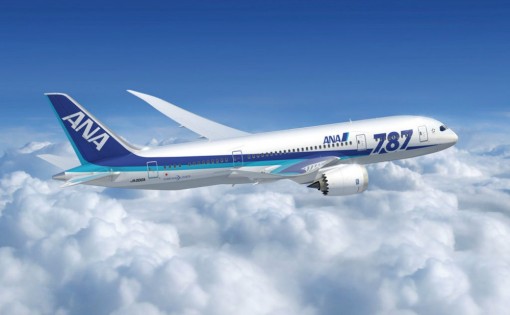 Yes, I'm going to Tokyo and I'm very excited about it.
But I jumped to the end of the story before telling you about how this came to be, why it's important to me, and how you can help make sure my trip is everything I want it to be.  So let's rewind just a little bit. . . .
All Nippon Airways (ANA) is launching a new service between Seattle and Tokyo on July 25th, 2012.  The daily flight departs Seattle at 1:15 pm and ten and a half hours later arrive at Narita at 3:45 pm (the next day).  For visitors interested in traveling on to other cities within Japan, or making connections to other destinations in Asia, this arrival neatly coincides with outbound flights. The outbound flight leaves Tokyo at 5:25 pm and arrives in Seattle at 10:55 am that same day.  Yeah, I know all that time change can be crazy, but essentially you lose a day going over and get in back on the return.
Fellow travel blogger and friend Andy Hayes (publisher of Sharing Travel Experiences) and I were asked to be ambassadors for ANA's Seattle-Narita launch.  Woo hoo!  We haven't been to Japan, so this was an exciting opportunity to say yes to.  But what does being a launch ambassador really mean?  Well, here's just a little bit about what we'll be doing.
Attending a launch party at Boeing where we'll get to take a peek at the ANA product.  And we got to invite a few friends to join us.  I'm no stranger to inflight service and aircraft configuration, and I've heard incredible things about the product that the Asian carriers are putting out, so I'm more than just a little curious to see what they'll be doing on this route.  And I'm also dying to take a look at the Dreamliner – and to see if it's all that it's been touted to be.  (NOTE:  The route will be flown by the Boeing 777 to start with, then change to the 787 Dreamliner when ANA takes delivery of more of those aircraft.)  Have you taken a look at the interior schematic of those things?  Andy and I will be tweeting from the launch party using the hash tag #ANASEA, so follow Andy and me on twitter if you want the real time scoop.
Take a look at this interior.  Isn't it a thing of beauty (airplane geekness coming out).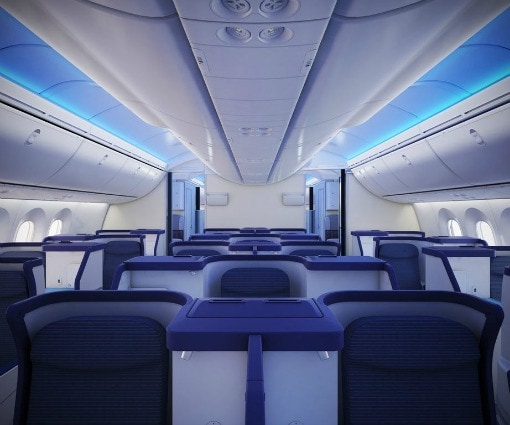 And how about these lie-flat seats and private cubicles in business class? That 10 1/2 hour flight will fly by with that kind of comfort. And with staggered seating arrangement, no one will see me drooling while I sleep.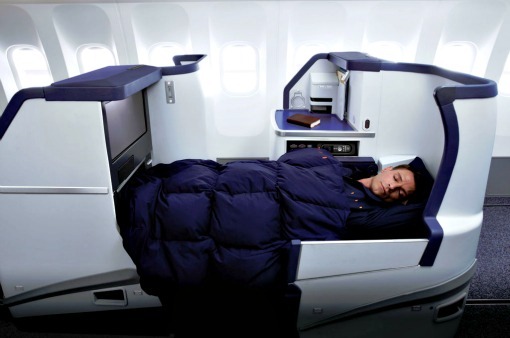 ANA is also sending Andy and I to Tokyo so we can experience the business class hospitality offered.  We've haven't coordinated dates yet, but it will probably be sometime in the early fall.  While I've never flown on the Boeing 777, there's a part of me that hopes we can schedule our trip when the Dreamliner is in service.  We'll be staying in Tokyo for a few days, again hosted by ANA, and we're even talking about staying on for a few days longer on our own.  I've ordered a couple guidebooks, have started talking to friends who've been to Japan, and we've started a Tokyo Pinterest board to help with our planning.  Both Andy and I are big at research and planning.
The planning stage is where we need some help.  We've never been to Tokyo.  Maybe you have.  And if you have, I know you're going to have some suggestions for us.  And if you have some suggestions for us, we want to hear them.  Here are just a few of the things that I want to know:
Attractions and sites worth seeing – I'm big on history and cultural sites, so any recommendations along those lines are sure to be a hit.  Also, what about some quiet spots for a bit of a respite.  Tokyo is a crazy busy city, so is there a park or speciat spot where I can relax for a bit before heading off to the next activity?
Shopping – Sure, I know Tokyo is expensive, but there must be some place to find gifts to take home and a nice souvenir to remember it by.  I tend to buy a nice gift for myself, something that I can use and enjoy, rather than a bunch of little tsotchkes.  What's a good gift to myself that will serve as a reminder of Japan.  And, what are the fun markets for people watching, getting a sense of the city, and just having a good time?
Food – It may be heresy, but I really don't care for sushi.  What other great food choices can I make?  I love noodle shops and wagyu beef, so that's a start.  But what else?
What to wear – I know Tokyo is a major city, much like New York, but what's the general dress code.  NYC is upscale and hip, is Tokyo the same way?  Can I tour around in casual jeans and a t-shirt or do I need to be more stylishly put together?  What about for going out at night, not the clubs – I'm long past that stage – but for drinks, dinner, or general entertainment.  What am I going to need to pack?
Internet access – Since we'll want to tweet and post to Facebook on a regular basis, we're going to need reliable internet access.  It would be better if it was wireless.  And best if it was free.  Is that possible to find in Tokyo?  Or do we need to just bite the bullet and take a mi-fi with us?  Sharing our real time experiences as two newbies in Tokyo is an important part of the ambassador program, so we need to figure out how to best get access.
iPhone use – We both have iPhones and we'll want the best tips you have for avoiding those often exorbitant cell phone charges.  Should we jailbreak our phones and get a sim card?  Would you buy in advance or when we get there?  I've always avoided using my phone when traveling abroad, so am really looking for practical tips here.
What did I miss?  What other tips and helpful recommendations do you have to share?
Let me say it again – I'm going to Tokyo!
Photo credits:  All courtesy of ANA