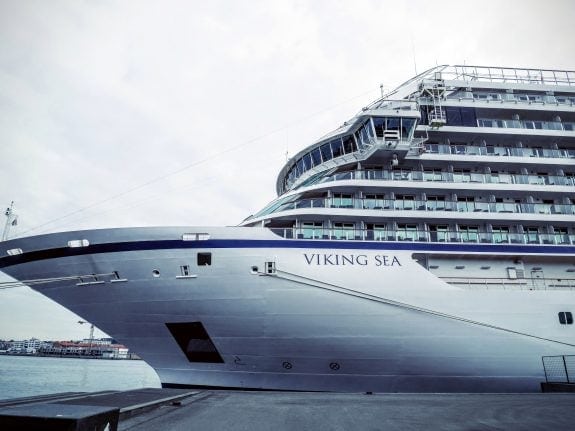 I know that lots of you still haven't made your big vacation plans for the year, or maybe you're ahead of the game and making plans for next year. I took a 15-day summer cruise on the Viking Sea and recommend both the ship and the itinerary highly. The itinerary is called Viking Homelands, and it's a cruise through Scandinavia and the Baltic stopping in historic city centers and cruising majestic Norwegian fjords. It's full of value luxury destinations and experiences.
Viking Ocean provides great value for your cruise dollar. It's an all-inclusive experience – something that seems to have fallen by the wayside on other cruise experiences – with many tours included at each port, soft drinks, beer and wine complimentary at meals, and specialty restaurants that don't require an additional charge. It was nice to relax and enjoy the cruise and the ports, without constantly being bombarded by staff trying to upsell.
There are, of course, things you can add on to your cruise experience, if your interests and budget allow, including pre- and post- extensions, specialty tours in the ports, shopping, along with beauty and spa treatments on board.
Most of us base our cruise selection on a combination of sailing dates and itinerary. While I can't help you with your availability, I can give you some useful information to help you decide if the Viking Homeland itinerary is for you. (You can get information about the ship and life at sea here.)
Organized tours are not for everyone. Generally speaking, we prefer to explore on our own, often taking an overview city tour to get the lay of the land and then going off on our own. Fortunately, Viking includes a city tour at each destination and then offers specialty or longer tours for an additional fee. You can book tours well in advance of your departure and, if needed, make changes at the excursion desk on the ship.
Let's take a look at the itinerary on the Viking Homeland cruise, along with what we chose to do and why, where we thought we made the right choice, and where we'd do something differently.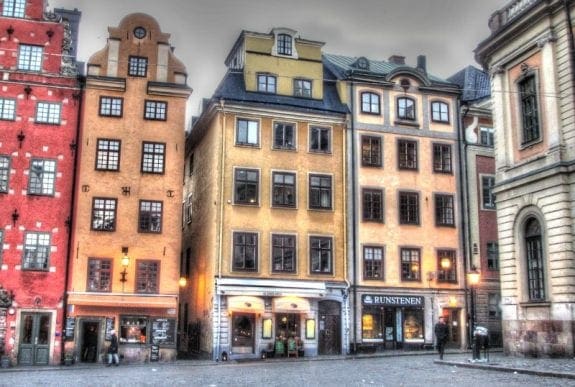 Day 1 – Arrive in Stockholm, Sweden
I was already in Stockholm, having been there for a week for a conference. I'm a big proponent of arriving early so you don't need to stress out over delayed flights, misconnections, or any of the other stress of travel.
Boarding time is based on your cabin level. We were able to get onboard around 1 pm, giving us a chance to have a welcome glass of champagne and explore the ship before getting into our stateroom. The ship overnights in Stockholm this first day, so even if you're late arriving, you won't miss the sailing.
Day 2 – Stockholm
There is an included city tour offered in Stockholm that provides a nice overview of the city. Since we had been there for a week and had seen most of the sites, we opted out of doing a tour, and instead stayed on the ship to enjoy some much-needed downtime after a hectic week at a conference.
Our recommendation: Take the city tour, remaining to explore on your own after it's finished. With an overview, you'll know if there's any area you want to return to for independent exploration. I enjoyed the Vasa Museum, as well as exploring the narrow streets with the guild houses, and recommend exploring those on your own rather than one of the fee-based tours. This is what we would have done had we not already seen the city.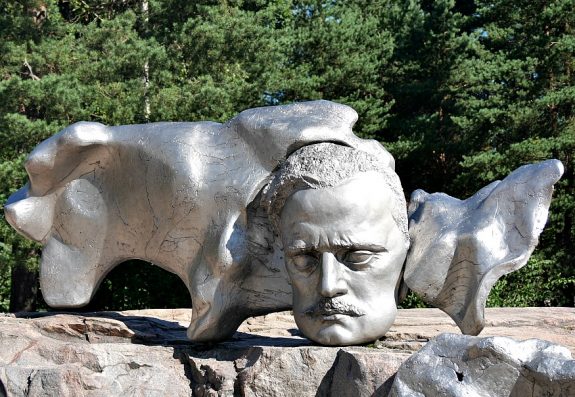 Day 3 – Helsinki, Finland
Known for its fashion and design, Helsinki was named the World Design Capital for 2012, I knew that I wanted to do some Christmas shopping there. Yes, I really do plan my gift shopping that far in advance. We decided to take the half day guided city tour (included) to both see the sights (the Stone Church, a park with interesting art, and more) and get an idea of where to do our shopping.
The tour ended at the Market Square, an area full of local vendors and food stands. While there were plenty of t-shirts shops for tourists, we zoned in on local artisans who created handmade goods. We bought some hand knitted scarves, a pair of locally sourced stone cuff links, and some artwork drawn by a local artist. After shopping, we grabbed a cup of coffee, soaked up some local flavor, and then returned to the ship. If shopping isn't your thing, from the Market Square there are plenty of other options for things to do independently.
There were additional fee-based excursions in Helsinki that are longer and take you further afield. Since we knew that we wanted to shop, we didn't look at those.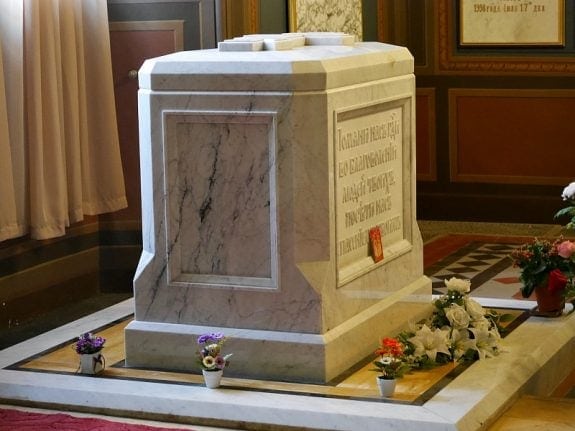 Day 4 & 5 – St. Petersburg, Russia
We knew that St. Petersburg would be a place for several tours, both because we were there for two days and because independent travel in Russia requires a visa. As cruisers, the ship stays a short enough period of time that a visa isn't required, conditioned on your travel being part of an organized group.
Since visiting Russia has been on my bucket list since college (Soviet Studies was a specialization within my major), I scoured the tour options to create the best combination of what I wanted to see and eventually decided on the included city tour along with two additional fee-based tours. I highly recommend all three of the tours that we took.
Our first tour was of the Hermitage Winter Palace and Gold Room, a tour that was worth every ruble of the additional fee. One of the most important features of the tour is getting admitted to the Hermitage before it opens to the public, resulting in a less crowded experience.
The Hermitage consists of four main buildings that showcase the impressive art collection of Catherine the Great. Two highlights for me were the Throne Room (where the tsar received important guests) and the Pavilion Hall with its gold columns.
The tour wrapped up with a visit to the Gold Room, home to a world-famous collection of Scythian ornaments spanning from the 7th to 4th centuries, BC. These beautiful artifacts included weapons, jewelry, and other adornments. This tour was probably THE highlight of a trip with so many highlights
After we finished the Hermitage tour, we went on a Canal Tour which gave us a chance to experience the city by land and water. This made for a very long day, we were exhausted when we returned to the ship, but if you have the stamina for it, I recommend seeing as much as you can.
This land portion of this tour took us to two prominent landmarks – St. Isaac's Cathedral (its gold dome covers the fourth largest cathedral in the world) and the Church of Our Savior on Spilled Blood (built on the site of where Tsar Alexander II was assassinated, its colorful onion domes make it one of the most photographed spots in St. Petersburg). Both landmarks are impressive inside as well, full of art and history.
The water portion of the tour took us through the city's canals and by many of its other significant landmarks. I appreciated this different look at the city and the chance it gave me for photo shots that I otherwise would have missed.
The following day we did the included City Tour. Usually, I would recommend doing the city tour first as it gives you a good overview before diving into to a deeper look, but for scheduling purposes, though, it didn't work out that way for us this time – and that was just fine.
The tour provided a quick view at many of the important landmarks (St. Isaac's Square, St. Isaac's Cathedral, Winter Palace, Church of Our Savior on Spilled Blood, and others), but no time to actually go inside.
We also visited the Peter and Paul Cathedral with sufficient time to go inside to view the Tomb of the Tsars. A special room is dedicated to the tomb of Nicholas II (in the photo above) and his family who were all assassinated in 1918. Most of the bodies have been repatriated to the tomb, and negotiations are underway to bring the remaining ones back "home."
There are other Viking cruises that visit St. Petersburg, and in the small world department, we ran into someone we know at the Hermitage. If you are as enamored with Russian history as I am, these additional Russian itineraries are also worth looking into.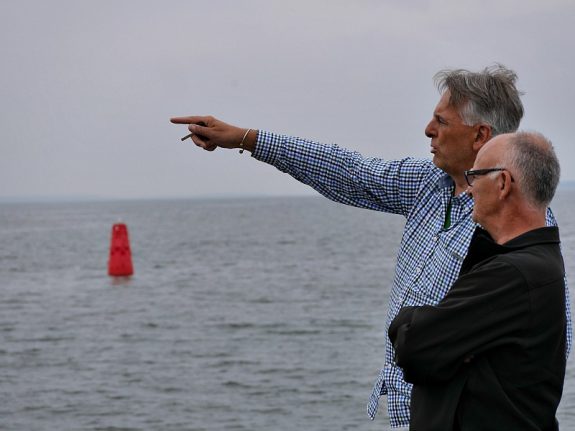 Day 6 – Tallinn, Estonia
Since we have a friend living in Tallinn, we didn't take a tour here. Instead, we slept in, met up with Peter, and headed out for lunch while many of the cruise ship tours were going on. There were several ships in port while we were there, and the city's medieval Old Town was crowded with visitors. We had lunch while the town was crowded, then Peter showed us around town and some of his favorite spots after the crowds thinned out. We even had a chance to get out of the city for a drive along the coast.
Since you probably won't have a friend in Tallinn, I got some feedback about the offered tours from other guests:
Chris enjoyed the included walking tour of the town but noted that with all the ships in port it was very crowded. Since the Viking itinerary has the ship in port until late in the evening, my suggestion would be to try to schedule a tour later in the day after some of the other ships are into departure mode.
I also talked with a couple who went on the Chocolate Factory Tour (fee-based). They both enjoyed their chocolate lesson and perhaps the tasting even more. Tallinn is known for marzipan, and I might have opted for this tour if we hadn't made other plans.
Tallinn is somewhere we'd like to go back to.
Day 7 – At Sea
Halfway through the cruise and we were ready for some downtime. It was a chance to sleep in, sit on our balcony and read a bit, enjoy the free wifi on the ship to catch up on things at home and enjoy some of the features of the ship (we went for afternoon tea).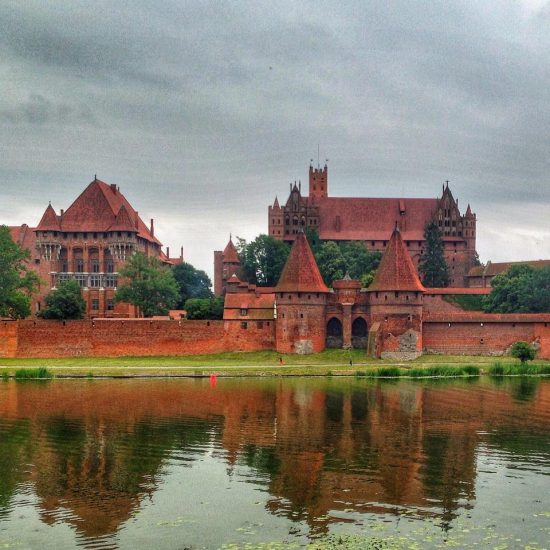 Day 8 – Gdansk (Gdynia), Poland
While there is an included city tour offered in Gdansk, my research showed that most of the city would be closed up on the day we were there. My interest in history and UNESCO sites piqued my interest in the tour of Malbork Castle, a fortified monastery dating back to the 13th century.
Our tour took us through the three main buildings, giving us a look at relics that have survived WWII and the subsequent looting. We saw medieval sculpture, armor, ceramics, Baltic amber, old weapons, and military equipment. One of my favorite artifacts was the old coins, originally minted at the Malbork Mint. It was a good choice.
You can read more about our time touring Malbork Castle here.
Day 9 – Berlin (Warnemunde), Germany
I had been to Berlin a few times, but Tony had not, so originally we planned to take advantage of the included Berlin Your Way tour. The tour includes the train into Berlin, a brief group city tour, and then several hours for exploring on your own.
It sounded like a great option – at first – but we should have immediately noticed Berlin is not on the coast and there was going to be some significant travel time. It meant a train ride of three hours – each way – meaning that six hours of our day would be on a train. Even though I'm a fan of trains, this was a deal breaker for us.
Instead, we chose to enjoy another day on the ship, relaxing and exploring. As we were having dinner that evening we learned that the train had been delayed returning and we watched the harried guests rushing to get back to the ship. While the ship wasn't leaving without getting everyone back on board, I much preferred our relaxing day over the rushed one that others experienced.
If you haven't been to Berlin, and have no plans to visit in the future, the long day may be worth it. Another option is to set up a private tour that aligns with your personal interests and has less travel time.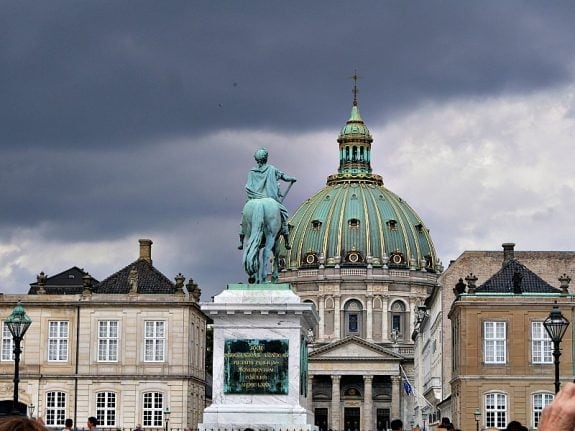 Day 10 – Copenhagen, Denmark
Having heard so much about the city, we were excited about this stop and opted for the included city tour. The tour was a brief look at some of the notable sights in Copenhagen, including Tivoli Gardens, The Little Mermaid statue, Amalienborg Palace, Rosenborg Castle, and the brightly painted housed along Nyhavn.The tour allows photo time at The Little Mermaid, but otherwise was a drive-by of the sights.
We left the tour at Amalienborg Palace and went off to explore on our own with recommendations from friends about a couple of restaurants. This is one of the few cities where it's not a walkable distance back to the ship, so we made note of the departure point and times (they were plentiful) to catch the bus back to the ship, and headed to Nyhavn for food and photos.
We had some delicious coffee and cake in the afternoon, and while I enjoyed it a lot, I probably should have done a little more research into the other tour options. I felt like we left much unseen, and while Copenhagen is easy to return to, there were probably better choices we could have made about things to do in Copenhagen.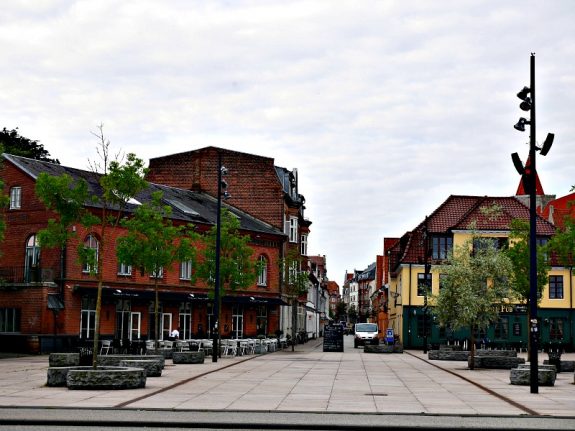 Day 11 – Alborg, Denmark
When we decided on the Beer Lovers Tour (fee-based) we forgot that would mean having our first beer around 9 a.m. We soon jumped into the spirit with the combination beer walk and history tour of the district surrounding Jomfru Ane Gade.
We enjoyed the tour, not only for the samplings of Danish beer but also for the conviviality that emerges when beer lovers gather. Our tour guide was a former local radio host, and he was knowledgeable about both the local beer scene and the community. The tour ended with lunch, the traditional Danish open-faced sandwich and Aquavit, and after we were free to explore and return to the ship on our own (a short walk away). There is also an included city tour.
Again, this was a solid choice. We saw the center of the city, hung out with fun people, learned a little town history and gossip, and got to drink beer. This is another place I'd like to return to and that surprised a lot of friends.
What I liked about Alborg is that it felt like a real city, not just a tourist destination. It's a university town, which means it has the culture and entertainment options that come with that population, and it seems like a good place to spend several weeks, meeting locals and getting to know more about Danish food, culture, and beer.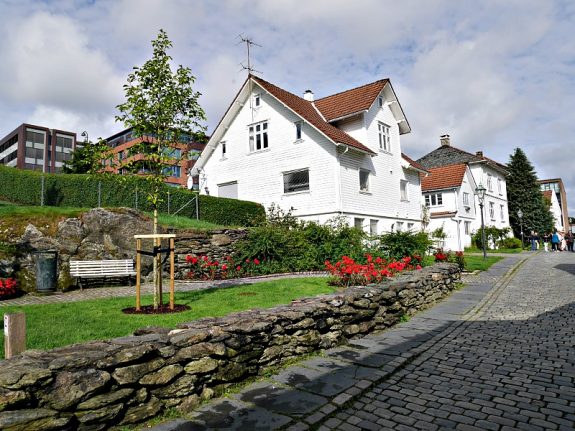 Day 12 – Stavanger, Norway
Since the ship docks in the heart of the city, we opted for the included walking tour, intending to stay on after it finished. It didn't work out that way, and this is one of a couple of tours where we were disappointed. It started out well, with a tour through a neighborhood of nearly 250 wooden houses that date between the 18th and early 20th centuries. The homes are mostly single-family dwellings, with a few that have become shops or art galleries. This part of the tour was enjoyable.
But things seemed to lose organization when we headed to the center part of town, and our guide didn't have a focus or much to share. I'm not sure when things fell apart, but by the time we got to the Norwegian Petroleum Museum, we were frustrated by the tour. We explored the museum at our own pace, and although it initially sounded dry, we were fascinated by the history of gas exploration in the area, including the disasters and successes, and what is currently being done to balance the competing interests of economics and protecting the environment.
After we left the museum we wandered the area looking at shops and galleries. A market is set up in the square (probably just on days when a ship is in port), and we enjoyed looking at the local handicrafts and meeting the artists. I bought a pair of alpaca knitted gloves, and although it hasn't yet been cold enough to wear them, am looking forward to having them for years.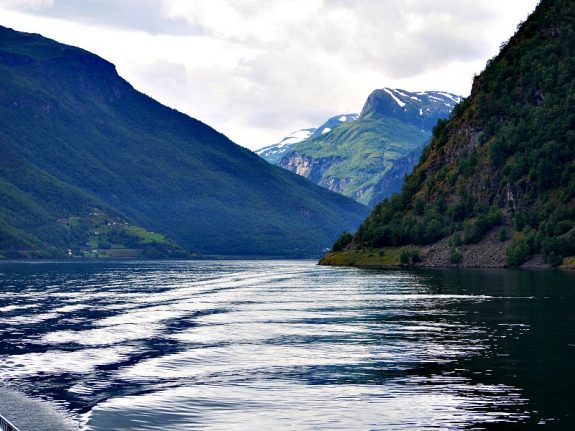 Day 13 – Flam, Norway
All tours were canceled in Flam as a mudslide wiped out several of the roads and a part of the train tracks. Viking quickly zigged and zagged and arranged an included alternative for all passengers – a boat cruise through the area giving us a look at the unspoiled scenery found in this isolated area. We enjoyed the boat tour and by keeping a keen eye on the mountains and shoreline, we were able to spot wildlife.
There is a hydroelectric plant deep within the mountains in Flam, which means there are lots of people employed at it, but the whole area feels isolated and apart from civilization.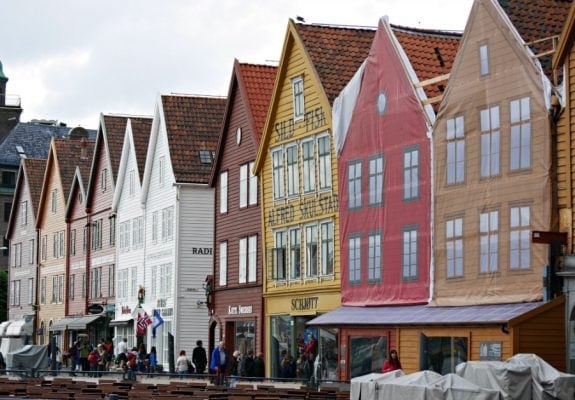 Day 14 – Bergen, Norway
The last stop on our itinerary was Bergen. We opted for the included walking tour. This was a good choice, and our knowledgeable and friendly guide took us along Bryggen, the scenic wharf that is a UNESCO site, and the Bryggen Museum, explaining details about the once powerful Hanseatic League of the Middle Ages. We were staying on an additional day in Bergen, so we made note of things we wanted to go back to and see in more detail, then headed back to the ship to pack up for departure.
There were some good optional fee-based tours in Bergen. While they merited consideration, we didn't want to spend our last day in an exhausting day of touring. We preferred a slower pace as we prepared for our last night on the ship.
Day 15 – Depart Bergen
It was time to leave, and as sad as that always is, we also experienced a sort of joyful anticipation at returning home. Since we planned to spend the night at a hotel in Bergen, we slept in while other passengers woke up at the crack of dawn for early flights. After breakfast and an easy disembarkation process, we located a hotel (we hadn't booked in advance), left our bags, and headed off to explore the places we had noted from our walking tour the day before.
Sailing dates for 2019 and 2020 are now available, with itineraries in both directions, Stockholm to Bergen and Beren to Stockholm. Take a look at the dates and rates here.
Note: Our cruise was hosted by Viking.
Pin to your favorite cruising Pinterest boards.