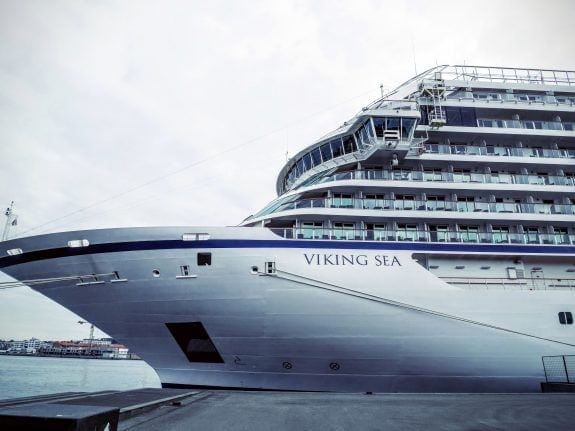 The Viking Sea set sail from Stockholm on a 15 day Viking Homelands itinerary, visiting eight countries:  Sweden, Finland, Russia, Estonia, Poland, Germany, Denmark, and Norway. Since I was already in Sweden, and the itinerary included mainly places that I had never been, it was easy to get excited about the trip.
"What will 15 days at sea be like?" friends wanted to know. "Won't you get bored when you're not in port? What will you do?"
The Viking Sea is one of Viking Cruises newest ships in its ocean cruising division. The ship is big enough – 930 passengers with a crew of 550 – to travel the waters where river ships cannot go without sacrificing the service standards that loyal Viking cruisers expect.
That loyalty is a good place to start when talking about shipboard life. Although I'm sure there were passengers on board who were new to Viking cruises, everyone who I talked with had previously sailed on one of the Viking river cruises (as had we). We spent a lot of time talking about the differences between river and ocean cruising early on, trying to wrap our head around the different experiences. The decision to sail on the Viking ocean came down to loyalty – these passengers loved Viking but were ready for new destinations.
So what was life like on board the Viking Sea?
Embarkation
One of the busiest times in the cruising process, as hundreds of passengers anxiously queue up to get on board, this had to be one of the easiest embarkations I've experienced.
Stateroom availability is determined by the category of your cabin, and yes, this means the higher priced suites have priority boarding. We had a Penthouse Veranda stateroom (6083 in you want to check in out on the deck plan) and we were told we could access our stateroom at 1 pm on the day of sailing.
We got to the ship shortly after 1 pm and found a handful of check in desks with friendly staff to check us in. There was one other party checking in, so our process was quick, a matter of verifying identification and credit cards, and we could proceed on board. It would be another hour or so until the stateroom was ready, so we used this time to enjoy our welcome aboard glass of bubbly and explore the ship.
The Ship
If you're used to river cruising, this is going to feel like an awfully big ship. But, if you've done other ocean cruising, you'll appreciate that the size is comfortably spacious. The "front desk" is called the Explorers' Desk, and is the hub from which all questions can be answered and problems solved. It is staffed 24/7.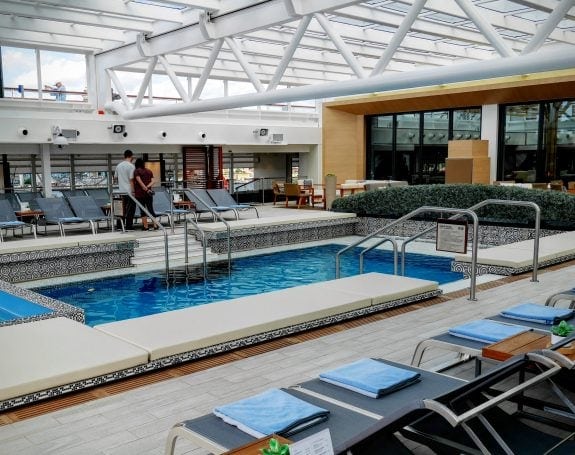 There are two pools, the main one in the center of the ship featured a retractable roof. While we didn't have warm enough weather for the roof to be open, I can imagine that on warmer itineraries that this would be a nice feature. The other pool is an infinity one, cantilevered off the back of the ship.
There is a good sized spa, salon, and fitness center. The spa featured Nordic bathing rituals, including hot and cold pools and a snow room.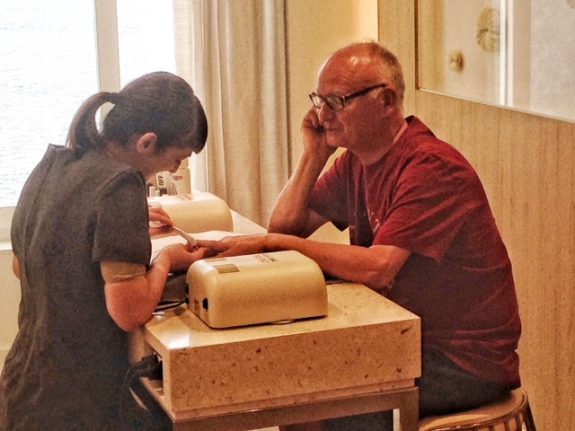 We did his and hers manicures one afternoon while we were sailing. It was adequate and did the job, but wasn't anything I'd consider pampering. A pedicure on another day was far more relaxing.
Shipboard Activities
Board games and cards, movies and shows, port talks and enrichment lectures, fitness classes, movies, and more, the Viking Sea is prepared to keep you busy for the better part of the day. Activities are spelled out in the Viking Daily, left in your stateroom each night, and you can pick and choose the activities that interest you. The activities are designed for the 50+ age bracket, and there is no all-night disco, casino, video arcade, or kids club.
I stopped in for few of activities, but wasn't wowed by any of them. I thought the enrichment lectures were pedantic and the speakers boring, which was a shame because there were some potentially great topics. There was usually a good turn out, however, whether from true appreciation or just the need to fill one's schedule, I'm not sure.
Much of our time was spent enjoying our ports of call, but I think taking some time to enjoy the ship and amenities is an essential part of cruising.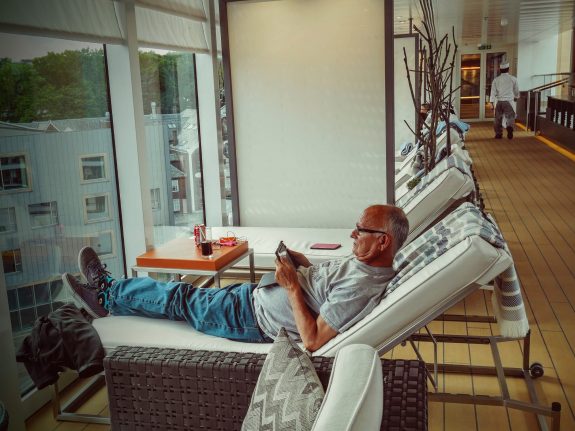 I don't need to have every minute of my time structured, far preferring to grab a lounger and read a book or listen to a podcast, and I much prefer a glass of wine on my balcony to end an evening than listening to lounge music or a cabaret show. Those things are thoroughly enjoyed by passengers a decade or two older, though, which raises an interesting question – as the younger and cusp baby boomers become the prime market for Viking, what kind of entertainment options will best fit this rock and roll demographic. I'd bet it's not going to be "Fly Me to the Moon" in the lounge.
What would have been nice:  A tour of the ship, more areas where music was the backdrop to conversation rather than front and center entertainment. I really hope Viking will put some thought into entertainment to capture the 50-something crowd, not just the 70-something crowd.
Staterooms
Staterooms are located on decks 3-8, and all have balconies.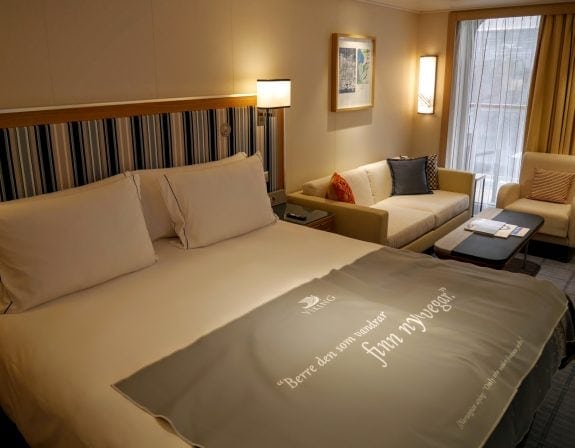 Our stateroom featured the following amenities:  King-sized bed, large flat screen television with on-demand movies, mini-bar with beer, wine, liquor, soft drinks, and snacks (complimentary and restocked daily), welcome bottle of champagne, complimentary 24-hour room service, free wifi (fairly good as long as you weren't trying to live stream anything), robe and slippers, upscale bathroom products, complimentary shoe shine and pressing service, coffee maker, and more.
We had a seating area with couch, chair, coffee and end table, and the balcony had two chairs and a table. The balcony was nice spot for morning coffee or evening wine, especially when the ship was sailing.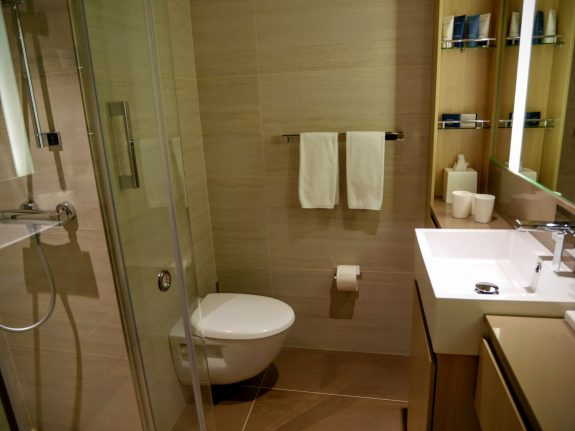 To answer two frequently asked questions:  There was plenty of hot water and the water pressure was great. A good bathroom is important.
My recommendation for stateroom selection on the Viking Sea is simple, opt for the best that your budget will accommodate. Additional amenities and preferred selections come with each level of stateroom (a nice comparison here), and these can be cost saving items. For example:  Viking, like many cruise lines, offers a wine and spirits package. For the duration of our cruise, for two people in the room, this would have been priced at $419 per person (pricing varies based on cruise duration and itinerary), and covered beer, wine by the glass, and most cocktails. However, beer and wine are included with meals at no charge, and many of these items are in the mini-bar. I think it's a far better value to upgrade to a cabin that includes those items, recognizing that you will still want the occasional cocktail or premium wine which will be charged to your account.
There was a laundy on our floor which had three washers, three dryers, and two ironing boards and irons. Knowing this was available meant it was much easier to pack for the three-plus weeks we were traveling. You won't want to spend your entire time doing laundry, but it does making packing light much easier. There is no charge to use the facilities, nor for laundry soap. Dry cleaning services are available (one-day turn around) for a fee.
What would have been nice: A clock in the room (that adjusted time zones), an alarm option on the television, tea bags (or pods) in the room instead of just coffee.
Food & Beverage
Viking offers good selections, with sufficient options to finesse picky palates as well as the more adventurous eater. You can choose where you prefer to eat, there are not pre-assigned times or tables, and it is as close to just showing up and get seated as possible with 900-some passengers.
Most of our meals were in the The Restaurant (for dinner) and the World Cafe (for breakfast and lunch).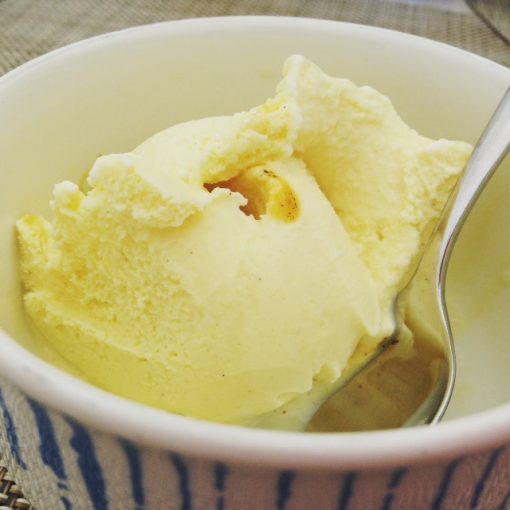 The Restaurant is the primary dining area, a white table cloth kind of place with tables set for two to eight. We generally dined with friends who were also traveling on the ship, or alone, and there wasn't the pressure of having to be entertaining each evening as you met new table mates. The menu had three sections to order from, allowing you to pick and choose to fit your night's preferences. Each night, five to six rotating feature choices were offered for appetizers and for entrees, along with two or three desserts. Additionally, there was always a regional selection based on the destination you were visiting, and a selection of traditional favorites that were always on the menu. Choices ran from gourmet (lobster thermidor, Grand Marinier souffle, cherries jubilee) to traditional (New York strip, prime rib, vanilla gelato), and there was never a time when I felt that I didn't have choices to order.
The downside to eating in The Restaurant is that jeans are discouraged. You're not going to be refused a table, but the casual elegant dress code wasn't always the mood we were in when returning from a full day ashore. Pack some casual pants and you'll be fine, no suits and ties or formal wear required.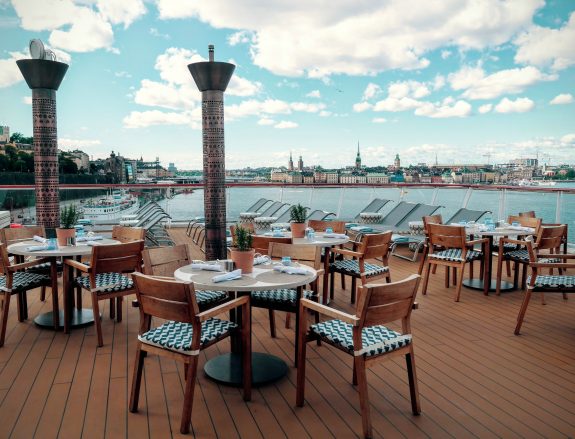 The World Cafe is on deck seven and is a near mirror buffet on each side. One side featured salads, the other sandwiches, but the hot entree and side dish selections, along with the gelato and other desserts were the same. We ate here often for breakfast and lunch, especially when we'd had a long day and wanted to grab a quick bite. We also felt more comfortable showing up there in jeans. The food was similar to that found in The Restaurant, was of good quality, and we liked being able to dine outside on the deck when the weather permitted.
Manfredi's Italian Restaurant is located on deck one and was a big hit with us. Our stateroom category allowed us to make to advance reservations, and we're glad we did. We were also able to snag two more nights there once on board. The menu is constant, with a couple of featured daily specials every night. One of the first things I saw as I was walking in was a full wheel of Parmesan cheese; I knew it was going to be a great meal. Some of our favorite choices:  osso buco, steak Glorentine, all of the pastas.
The Chef's Kitchen is also located on deck one, and our stateroom category allowed us to make advance reservations there. This restaurant features a rotating tasting menu and is more explorational gourmet. We checked the menu various times throughout the sailing and never found the menu compelling. We cancelled our reservations there.
The Pool Bar & Grill has excellent burgers, and serves longer hours that The Restaurant or World Cafe. Mamsen's in the Explorers' Lounge has a small breakfast menu for late risers. Tea in the Wintergarden is served daily from 4-5 pm and features a nice selection of sandwiches, petit fours, and other pastries.
Room service is also an option. I'm generally not a fan of any type of room service, but ordering breakfast for delivery when you have a long day of touring ahead, means you can get a little bit more sleep and ease into the day.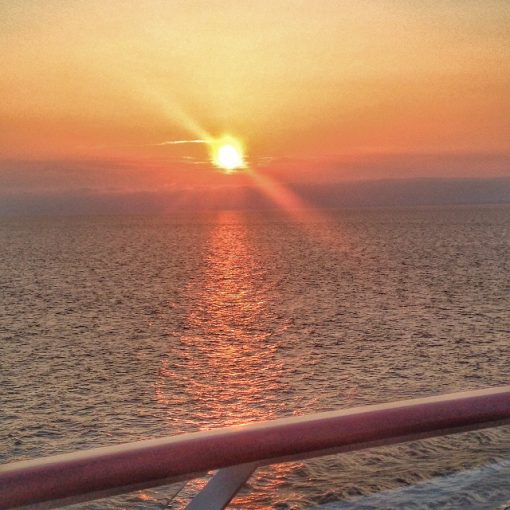 Bars and lounges include a Torshavn, a cabaret lounge, the pool bar by the main pool, the Theater Bar, the Viking Bar, and my favorite, the Explorers' Lounge. Located at the front of the ship, and scaling two floors, the Explorers' Lounge is a great spot to watch the sunset (which is very late on this Nordic itinerary) and enjoy the time at sea from an indoor location.
My recommendations:  Dinner at Manfredi's, tea in the Wintergarden, drinks in the Explorers' Lounge at the front of the ship.
Gratuities
Tipping is a complicated subject, especially when people from different parts of the world travel together to different parts of the world. What is common with one group or one country, is not as acceptable in others. While my personal preference is to have all workers paid a living wage, and to have prices adjusted upfront to reflect that commitment, as a U.S. resident, I know that is still a pipe dream. I have come to expect and accept that tipping is an add on expense in all service related situations – restaurants, bars, salons, and yes, cruise ships.
On our Viking Sea itinerary, a flat per person fee is added on to the shipboard account that covers gratuities for the hotel and dining staff. The amount is $14 per day per person, and takes care of gratuities to waitstaff, stateroom stewards, galley staff, laundry staff, buffet stewards, and others. A 15% gratuity is added on to bar and deck service at the time of purchase. In the salon, you can add the tip you wish at the end of your service, all added to your stateroom account.
My recommendation:  Don't be a jerk, and don't cheap out. These staff members work hard to ensure your cruise experience is the best ever. If you have a special request, they'll make sure it's handled, whether that's fresh ice in the room every day or extra dessert at dinner. A little appreciation goes a long way, and a little extra money goes even farther. Our approach is to have the standard amount billed to our account, and then provide a little extra in cash to those who have been particularly helpful.
Disembarkation
Eventually we arrived in Bergen, Norway, and that meant it was time to leave.
Bag tags and disembarkation information is delivered to staterooms several days before the end of the cruise. Passengers should plan to be packed up, with bags placed outside their stateroom, by 10 pm on the last night of the cruise, keeping necessary items with them as carry-ons for the following day.
Although passengers are asked to vacate their staterooms no later than 8 am, departures off the ship are staggered based on flight times. The bag tags are color coded for these departure times. Since we were staying on in Bergen, our tags were black and our ship departure time was 9:45 am. We knew this meant we could pack up and have a light breakfast before heading on our way.
Disembarkation was well organized and orderly. We said a final farewell to our crew, had a leisurely breakfast and coffee, and then found a spot to relax until our departure time came around.
The Viking Homelands cruise is now a memory, a very fond one. There are a couple of additional sailings this year, and the 2017 is available for booking. Prices vary based on dates of sailing and stateroom type. Viking Ocean also offers Mediterranean, West Indies (starting in 2017), and Western Europe itineraries, in addition to Baltic sailings.
Disclosure:  Our cruise was hosted by Viking Cruises.
If cruising is something on your vacation list, pin this to your Pinterest boards for easy referral.