It seems like everyone thinks about romance in February, but once Valentine's Day passes, romance gets short shrift. One way to celebrate romantic memories all year long is to re-visit places that have a special meaning for you, that have played a starring role in your life together, and that makes you smile when you think about past visits.
For us, that destination is San Francisco, California. San Francisco was the first place we vacationed in when we were dating. We spent some time there on our honeymoon. We've flown there for baseball games, conferences, getaway weekends, and other special events.
We "get" San Francisco because San Francisco "gets" us. For a celebratory getaway, we wanted to stay downtown in the Union Square area – it's the area of the city where we stayed on our first visit – and soak up the ambiance of the city.
We stayed at the San Francisco Hilton at Union Square, with great views of the city from our room, and we didn't want to leave.
This is the second in the year-long monthly themed features talking about places we've stayed and never wanted to leave. This post, and the ones to follow each month, may contain affiliate links, sponsored travel, or paid product placement. We've hand-picked these destinations and products because we like them and we think you will, too. Our February theme is about enjoying your favorite destinations.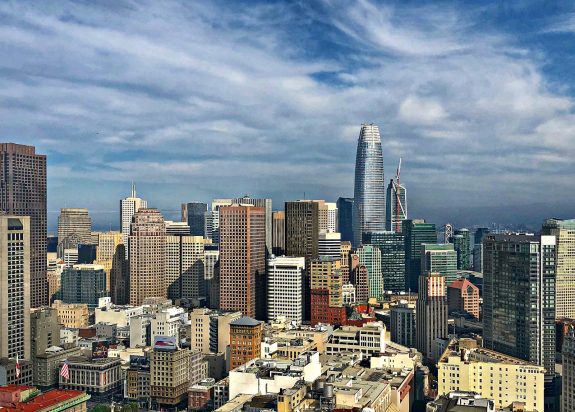 We went to San Francisco a couple of times as part of a driving trip, but with changes in our travel style combined with great airfares, San Francisco has become an easy getaway for us from Seattle. With flexibility in planning, there's frequently a fare sale going on and it's only a two-hour flight from Seattle. In a city that is full of history, combined with great venues for food and drink, it's easy for us to say YES to San Francisco.
For this getaway, we wanted to stay in the heart of the city, the area where we stayed on our very first visit in 1974 (although the hotel is no longer there). We knew we'd be within an easy walk or short cab ride away from anything we wanted to do or see, and with a room with a view, we knew we'd spend time enjoying the wonderful sunrises and sunsets that cast a glow over everything. For us, it's a special kind of magic that never gets old.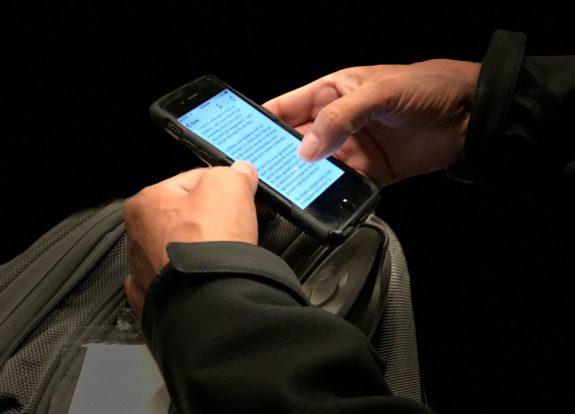 We didn't do a lot of advance planning for this trip, other than arranging the hotel. We didn't have to plan a lot because we have familiarity with the city, we knew some things that we wanted to do again, and we just wanted to play it by ear. While we were heading into the city on BART, we did do a little research about what we wanted to do that afternoon and where we wanted to go for dinner that evening.
The Hilton Union Square has a huge lobby that welcomes you on arrival and makes a perfect gathering area for conversation or a beverage from the Lobby Bar later in the day. When groups are checking in or out, or groups of conference attendees meet up, it can get noisy, but it's very pleasant for an early morning coffee or a late nightcap. An appetizer menu is also available. If you arrive early and your room isn't ready, this is a great spot to rest up.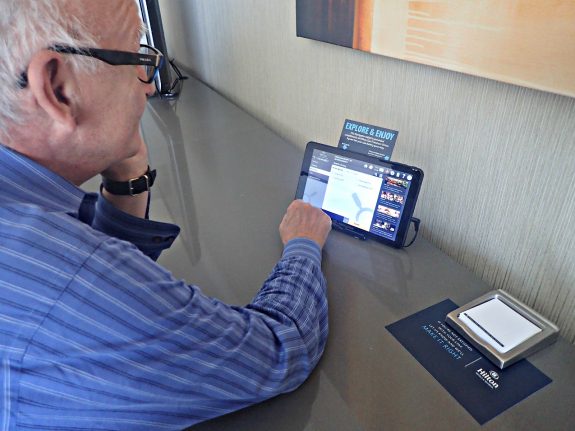 If you didn't do any research about the hotel or what to do in the area, you're not out of luck – the Hilton has tablets in the room that you can use to learn about the hotel and the area. Content is pre-loaded and easy to use.
With so many things to do in the Union Square area, we opted for a few favorites as well as trying to add a few new spots. I'm fortunate to belong to some dynamic travel communities where members enthusiastically share their favorite things to do around the world. In fact, I've started a small community of travelers (many are flight attendants) so that we can answer one another's questions, make personal recommendations, share photos, and even admit our travel fears in a way that enlists the encouragement of supportive travelers. If you're interested in being a part of it, you can find more info here.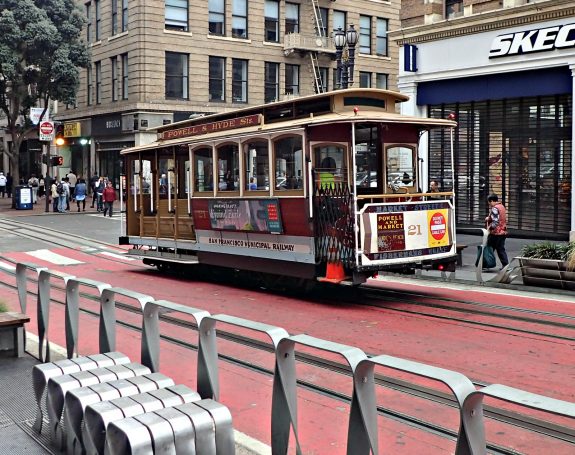 For us, the cable cars never get old. It's easy to dismiss them as touristy – and sure, they are a big draw for visitors to the city – but they are also the last remaining manually operating cable car system in the world. Dating back to the mid-to-late 1800s, three operating lines remain two of which run from the Union Square area to the Wharf. We didn't ride them this visit but watching their operation, and the way they navigate the hills and the turns always fascinate me. If you want to learn more about the history of cable cars in San Francisco, the Cable Car Museum is a worthwhile stop.
One of our favorite things to do in San Francisco is wine tasting. It's an obvious choice with so many wineries in the area, but this trip we wanted to check out a few new options.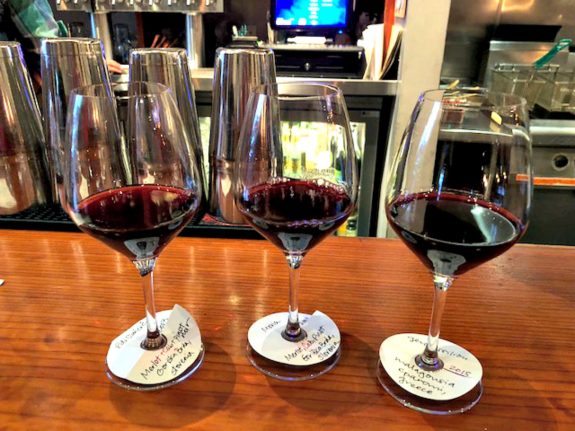 The first tasting spot we enjoyed was the Barrel Room (415 Sansome Street and they also have an Oakland location). We stopped by in mid-afternoon and the place only had another party there. We sat and the bar in order to interact with the bartenders and to enjoy a little more local atmosphere. I ordered a tasting flight of red wines from Eastern Europe, something I would never have thought to order had it not been their featured wine flight. My favorite was a 2008 Edi Simcic Duet Lex from Slovenia.
Tony enjoyed a whiskey flight (I'm not a fan) and we shared a couple of appetizers. By the time we were ready to leave, the after work and happy hour crowd was starting to come in. Our tip: Time it for early in the day, make it a late lunch (they have a full menu) and beat the busy time.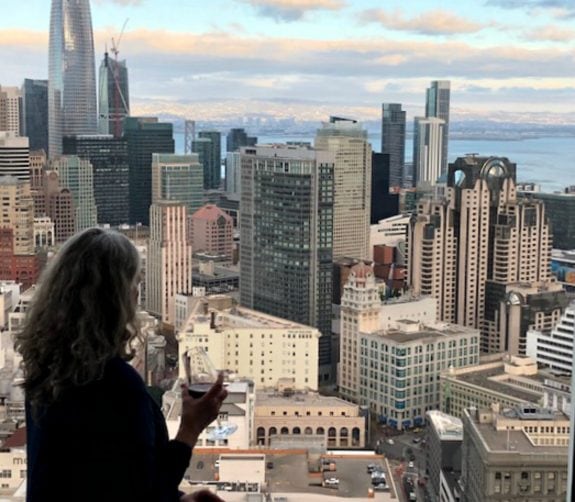 Our other spot for wine and cocktails was Cityscape Lounge on the 46th floor of the San Francisco Hilton Union Square. The views from here are impressive, an absolutely stunning 360-degree look at the city. Make time to check it out.
We love the San Francisco tradition of an Irish coffee. While it's origins are disputed, we like the version that it was first served at the Buena Vista Cafe (located at the corner of Hyde and Beach) after Stanton Delaplane, a Pulitzer Prize-winning travel writer, worked with the saloon owner to recreate a drink that he had sampled while at Shannon Airport in Ireland. I've included a recipe for an Irish Coffee below so you can make it at home – it's easy, although the floating layer of cream may take some practice.
We enjoyed our time at the Hilton San Francisco Union Square and never wanted to leave. We think you'll feel the same.
If You Go
Location: 333 O'Farrell Street, San Francisco, California.
In the Neighborhood: Union Square is a public area in the middle of the city, surrounded by Geary, Powell, Post, and Stockton streets, and is a vibrant center for shopping, theater, and other entertainment. The Hilton San Francisco Union Square is a convenient downtown location right that not only provides easy access to Union Square and the surrounding businesses and stores but is also close to the financial district, the theater district, Chinatown (the oldest in North America with the largest Chinese community outside of Asia), and BART (the Powell Street Station), If your travel plans involve time in the city, like ours, this location makes everything easy.
Accommodations: The hotel is a full-service hotel with over 1,900 rooms and suites in three towers. You'll find a full range of rooms available, along with meeting space, ballrooms, and more. We stayed in Tower 1, room 14-4470, and from our balcony had a northerly view of the city and the San Francisco Bay.
Amenities: You'll find the expected upscale amenities, including an outdoor pool (it was too cold to try out when we were there), fitness center, full business center and services, concierge, and more.
In addition to the lobby bar, where a small appetizer menu is served, there are four additional restaurants/bars on the property:
Urban Tavern, located just off the lobby, is an upscale gastropub with an impressive local wine list. We had dinner here the night of our arrival and enjoyed it so much we were tempted to go back again. But, hey, it's San Francisco, and there are just too many great spots to check out. I'll have a full review of the restaurant coming up, but a tip till then – try the Burrata salad, delicious!
Poached, located around the corner from the lobby, is where the breakfast buffet is served. You can choose made-to-order eggs in addition to a variety of international breakfast selections. We had breakfast here twice and found the buffet excellent (both in choice and quality), although the service felt a bit hovering like the staff was trying to turn the tables quickly. This may be a result of having lots of business guests who want to be in and out in a hurry, so just let your waiters know that you're easing into the day and it should be fine.
Herb 'n' Kitchen, located just off the lobby, offers simple food like coffee, pastries, sandwiches, salads, and other simple food. There's also a nice selection of grab and go and items. We picked up a couple bottles of wine and some snacks in the marketplace and thought both the price and selection was reasonable.
Cityscape Lounge is located on the 46th floor and has 360-degree views of the city. It opens daily at 4 pm, and it's worth timing a visit for sunset as you watch the glow of the lights come on in the city. A small plate menu is available, and we found the cheese and charcuterie plate a light, yet filling way to end the day.
If you want to leave the hotel property for something to eat, stop by the concierge in the lobby for suggestions. They have a map available that lists dining options in the area, complete with information about location and menus. At first, it was a little overwhelming, but we quickly scanned for preferred food options and then zeroed in on a local area. There are lots (and lots and lots) of choices in the area, you'll easily find some place to try.
Rates: Rates start around $180, but are hard to pin down without a specific travel time frame. The hotel offers lots of value-added packages that may include breakfast, wi-fi, sightseeing, etc., or offer special discounts.
Self-service and valet parking is available, and it costs an arm and a leg ($63/77 respectively). There's no real reason to have a car in the city, so save the money and use public transportation, cab, or Uber. If you need a car for a day trip, you can rent one for much less than the cost of parking.
The Hilton San Francisco Union Square is pet-friendly and accepts dogs up to 75 pounds, no more than two in a room. Additional fees/deposit apply.
You can read additional hotel reviews on TripAdvisor here, and check out rates here.
Getting There: We flew Alaska Airlines from Seattle (SEA) to San Francisco (SFO). From there, follow the signage to the BART station in the International Terminal. BART tickets look more complicated than they really are, and basically, you find the fare on a graph based on your end station (in this case Powell Street). At the time of our trip, the rate was $9.65 per person one way. You can buy your ticket at the automated vending machines or from a ticket seller in the booth.
The ride to the Powell Street station was about 30 minutes, with trains leaving approximately every 15 minutes. Once at the Powell Street station, the San Francisco Hilton Union Square is a few blocks away, and an easy walk even with luggage.
A cab from the airport to the hotel will run about $50 and a shared shuttle about $22/person. Drive time is dependent on the time of day, but likely to run at least 45 minutes. A peak surcharge may apply.
If you're coming into the city from the Oakland airport (OAK), a cab will be about $65 and a shared shuttle about $30/person. BART now serves Oakland airport and the rate to the Powell Station of $10.95.
Buying Guide
Phone Apps – I've been using the Vivino wine app for a little over a year now, and it's been an easy way to keep track of the wines I've tried. I got tired of trying to take copious wine notes or trying to quickly do a search for a particular wine. With this app, I take a quick photo of the wine label, save it to my personal profile, and Vivino searches its vast database to pull up information provided by the winery, tasting notes from other users, and it highlights notes from my circle of friends. After you've tried the wine, you can give it your personal rating, add it to a wishlist, and add notes about where you tried it, etc. The app pulls up the average price of a bottle, where it can be found, and gives you an easy way to purchase and pay within the app. I use this app multiple times a week.
Price: FREE. Get more info here.
Guidebook – For city getaways, I'm a fan of the DK Eyewitness Travel Guide Top 10 guidebooks. The list concept gets a lot of bashing these days, but when I'm planning activities, organizing a list of things that I want to do, or just doing some general research, I find these lists invaluable. The guide is a collection of curated Top 10 lists (Top 10 Shopping, Top 10 hikes, Top 10 Attractions, Top 10 Museums, etc., you get the idea), digs deep into neighborhoods, has beautiful photos and practical maps, and makes it easy to organize a day without wasting time backtracking all over the city.
I've purchased lots of these guides over the years and always have it in my purse or backpack when I'm traveling. The Top 10 San Francisco is a helpful reference guide for planning time in the city.
Price: $10.96. Get more information from Amazon here.
Backpack – Our current go-to backpack is CabinZero's Classic 44L. We think it's both stylish and practical (you can read a full review here) for a getaway bag.
Price: $80. Get more information and purchase here.
Wine – Since Napa is just over the bridge and down the road a piece, we had to try something local that was delicious and appropriate for a special occasion getaway. We chose Twomey Cellars by Silver Oak's 2013 Merlot, an 80% Merlot blend for a sunset toast on our balcony. The wine was as impressive as the view, and while a stretch beyond our everyday wine budget, is well within the special occasion range.
Tasting notes: Aromas of black cherry, coffee, licorice, and cream bright fruit. On the palate, flavors of chocolate-covered cherries and hoisin sauce. Tannins are elegant, nuanced, and velvety.
Price: $65. Available for purchase online through wine.com where it's currently on sale for $60.
Pin this to your favorite Pinterest boards and keep it handy to plan your trip to San Francisco.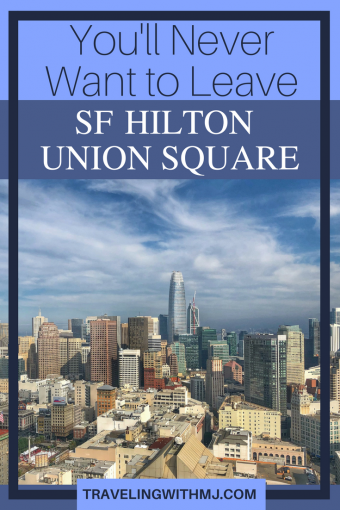 Recipe
Make your own Irish Coffee at home with this classic recipe. I use this as a starting point and then adjust to personal taste, sometimes I like it a little sweeter, sometimes I like a little more cream.
Ingredients
6 ounces strong brewed coffee
2 sugar cubes
1 1/2 ounces of Irish Whiskey (a jigger)
Lightly whipped heavy cream
To make: Fill a mug with very hot water to pre-heat while you're making the coffee. If you want to get fancy schmancy, you can pick up glass mugs that you traditionally see used with Irish Coffee. At home, I just use any large mug that I have around the house.
After the coffee is done, empty the water from the mug and pour the coffee into the mug, about three-quarters full. Add sugar cube (in a pinch, I've used 2 tsp of sugar), and stir until it is dissolved. Don't skip the sugar, it's what helps to make the cream float on top.
Add the jigger of whiskey. (Personal note: I'm a lightweight in the whiskey department, so I often use a bit less. Let your taste preference be your guide, at my house mixology is not an exact science.)
Finish the drink with a layer of whipped cream, smoothed over the top of the coffee by slowly pouring the lightly whipped cream off the back of a spoon.
There's a debate about the proper way to drink an Irish Coffee. Purists insist that it should be sipped through the cream, allowing the coffee and whiskey to gently pass through it. Others choose to stir the cream into the rest of the drink, both as a way to cool the coffee down to a more comfortable drinking temperature as well as a way to soften the bit of the Irish Whiskey. Whichever you prefer, drink up and enjoy!
Next Month
March will feature a getaway to [amazon_textlink asin='1628090774′ text='Orlando' template='ProductLink' store='travelingwithmj-20′ marketplace='US' link_id='64617af4-172c-11e8-8c54-21a7b2f197fe'], Florida, and will be themed around family travel.