The Aran Islands are a group of three small islands located off the west coast of Ireland in Galway Bay. The three islands are Inis Mór (meaning "big island"), Inis Meáin (meaning "middle island"), and Inis Oírr (meaning "east island").
The islands have history dating back to prehistoric times. The rugged terrain and isolation of the islands helped preserve many of the traditional customs and ways of life that were lost on the mainland during the centuries of English rule. The Aran Islands were also an important center of early Christianity in Ireland, and many ancient churches and monastic sites can still be seen on the islands today.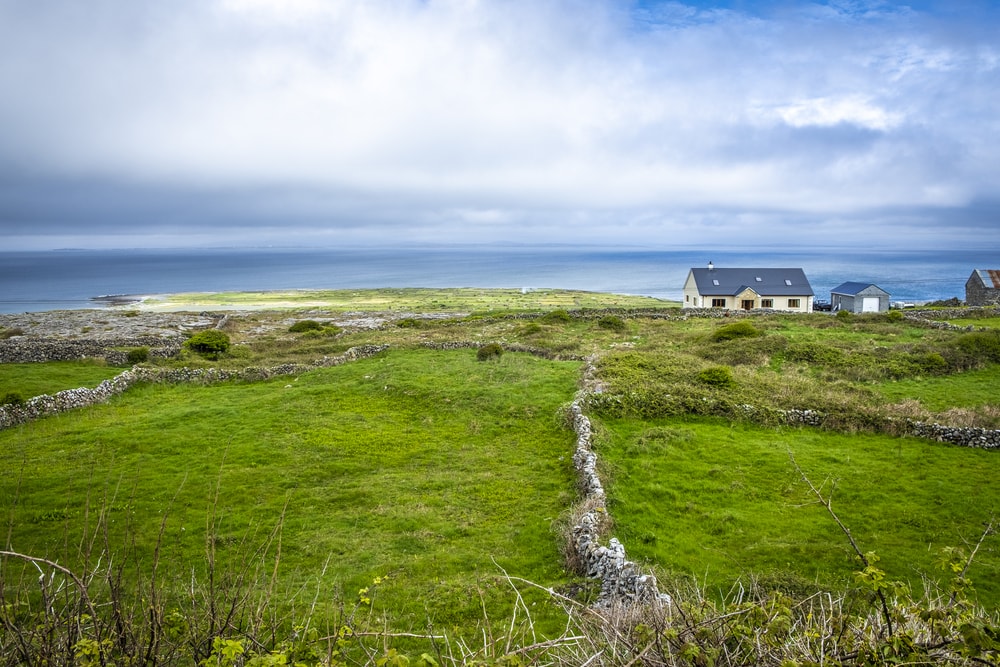 In the 19th and early 20th centuries, the islands were hit hard by the Great Famine, and many residents were forced to emigrate to the United States and other countries. Today, the islands are home to a small but vibrant community of traditional Irish speakers and farmers, as well as a growing tourism industry. Visitors to the Aran Islands can experience a unique and authentic glimpse of traditional Irish culture and history.
The islands are known for their rugged beauty and traditional Irish culture. They are also famous for their unique stone walls and the Aran sweater, a distinctive knit garment made from wool that has been popularized around the world.
While these traditional Irish sweaters were originally used as fishermen's sweaters, and that is how they are colloquially referred to today, the sweater represents more than that. As with many things in Ireland, there is a history that goes much deeper and is intricately entwined with Irish culture.
I visited Ireland, including the Aran Islands, as part of a paid partnership with Globus Journeys, I had the opportunity to learn and experience the country as part of their Choice Touring program. Choice Touring has been designed to provide a general group framework, and within that, options for individual customization, independence, and flexibility. It's almost like having your own specialized tour. Choice Touring is a premium product for only slightly more than regular group tours.
Our tour was Green with Envy: Ireland by Design. You can find the 2023 tour details here.
I've previously written about our literary pub crawl in Dublin, making Irish Soda Bread and scones in a cooking class, as well as writing an overview of the tour. Be sure to catch up on those if you've missed them.
History of Aran Sweaters (or Aran Jumpers)
The exact history of the traditional Aran sweater (also called an Aran jumper) is debated, some people believing it's one of the surviving ancient Aran crafts, while others believe it dates back to 1890-1900 as part of the efforts to improve the conditions of the fishing industry in the Aran Islands. The debate is lively; another Irish tradition.
The distinctive patterns on Aran sweaters have been rumored to have developed as a way for families to identify their loved ones if they were lost at sea. Each family had their own personal stitch pattern that was passed down from generation to generation. The cables and other patterns were also functional, as they added extra thickness and warmth to the sweater.
Aran knitwear was thrust into popular fashion in 1956 when the fisherman sweater was featured in Vogue Magazine. Taylor Swift wore one to promote her album in 2020. The warm sweaters from the fishermen of the Aran Islands became a fashion statement that also serves as a symbol of traditional Irish culture and artisanal craftsmanship.
Today, Aran Sweaters are rarely made in their traditional ways because factory-made sweaters can be made faster and cheaper. The traditional patterns and designs of Aran sweaters have remained largely unchanged, but mass production of sweaters (machine knit) has made them more accessible and affordable for the average shopper. The natural wool fibers used in traditional sweaters have given way to man-made fibers; intricate stitches made by hand have been replaced by machines, and lots of knock-offs and replicas have flooded the market.
Still, there are still places to find traditional Aran knits. What better place than the Aran Islands?
What is special about Aran sweaters?
One of the distinguishing features of authentic Aran sweaters is the use of natural, un-dyed wool. The natural color of the wool from merino sheep can range from white to gray to brown and all of the shades in between, and is probably the first thing you think of with a fisherman's sweater. Merino sheep originally come from Spain but have been present in Ireland since the 16th century. Driving around Inis Mór you'll see a lot of them.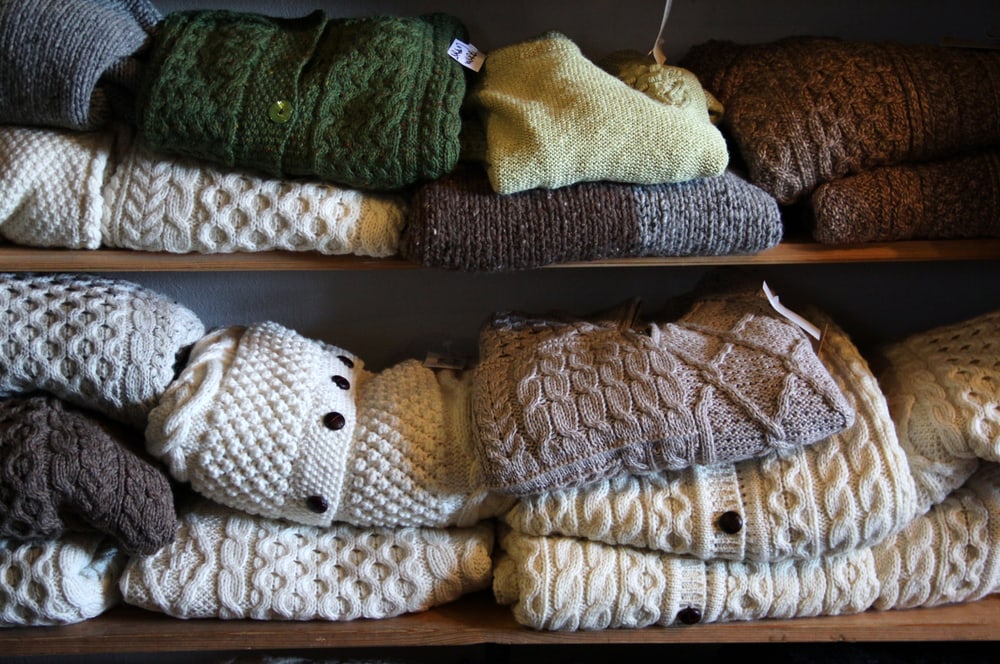 Natural sheep's wool can retain its natural oils, helping to make the sweaters waterproof. It's estimated that an Aran sweater can absorb 30% of its weight in water before the wearer will start to feel wet. I haven't worn the sweater in the rain yet, but I have worn a hat. Although the hat was machine knit, it has successfully kept my warm and dry in rainy and snowy weather. So this isn't just another Irish legend.
Another hallmark of Aran sweaters is the stitching. The cable patterns used are often named after elements of the island's environment and traditions. Some popular stitches include honeycomb stitch (representing the honeybee), tree of life stitch (importance of family), basket stitch (representing baskets the fishermen used), and cable stitching (representing fisherman's ropes). More on stitches below.
How Are Aran Sweaters Made?
Aran knitting, the real thing, not mass produce by machine, follow traditional practices. It's labor intensive and time consuming, a big reason why the handmade sweaters can be costly.
It starts with shearing the merino sheep in the spring, then washing and carding the wool for spinning. The wool is spun into yarn, creating a thick, durable thread. The yarn can be left natural or dyed, then it is ready for the knitting needles. Texture is created by the various stitches, giving the sweater some heft. With handmade sweaters no two will ever be the same. The sweater is finished up by blocking to shape it.
Then it's ready to wear or to be sold.
Note: There is absolutely nothing wrong with choosing a factory made item. During the time I was in Ireland, I bought two items – an Aran cardigan (handmade) and a hat (machine-made). The sweater was a splurge, the hat more affordable. I wear and enjoy them both.
Are Aran sweaters itchy?
One of the bonuses of Aran Sweaters is that they don't itch. Merino wool has very short, fine fibers, so they bend together rather than irritating your skin.
If you have wool allergies, you'll still want to avoid them. I often get that itchy wool rash (from rubbing and scratching), and have had no issue with either of the Aran wool items I purchased.
How warm are Aran sweaters?
Traditional Aran sweaters are hand-woven, which means the maker has to use more wool than a machine-made sweater. Hands are unable to pull the wool as tights as machines can, meaning the knit will be a little looser. Because more wool is used, the sweaters are heavier, and therefore warmer.
Aran Stitch Patterns and Their Meanings
There is a popular mythology about how the meanings of Aran patterns began. It was once said that stitch patterns were used to identify fishermen who washed up after an accident at sea, each family using a specific pattern. As charming as this history might be, it was just a myth from playwright, John Millington Synge, in his play, Riders to the Sea.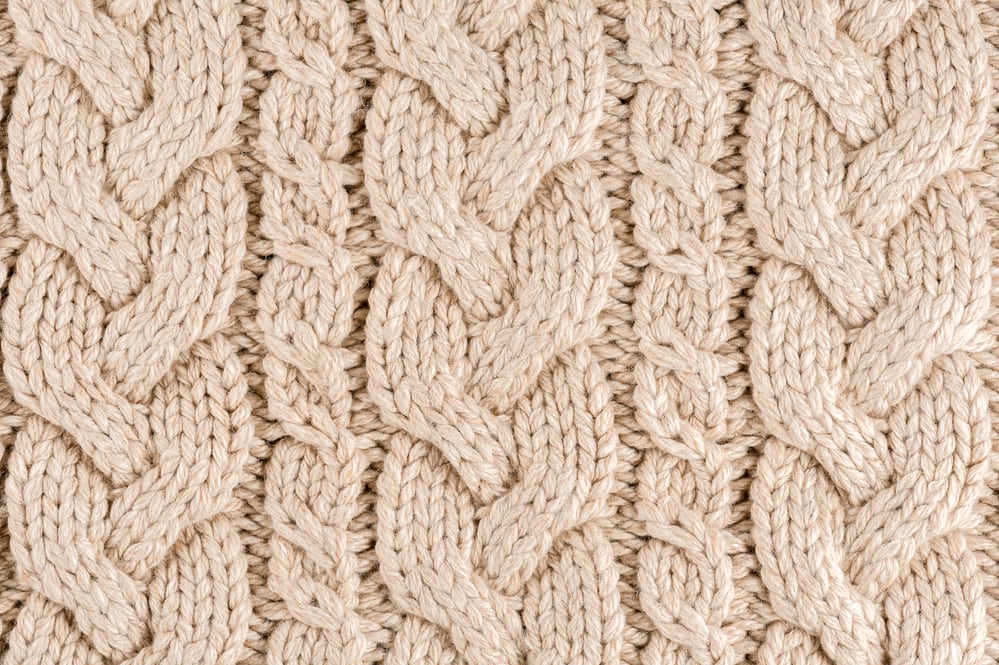 Heinz Edgar Kiewe, a yarn shop owner, wrote the book The Sacred History of Knitting in 1967, tracing the stitches to Aran clans and explaining their meanings. The stitch meanings are likely another myth, as Kiewe never had a connection to the Aran Islands. Still, never wanting to pass up a good myth, especially one than may have marketing value, his meanings have become widely adopted and promulgated.
Here are some of the most popular stitches.
The cable stitch is the most common type of stitch used in Aran Sweaters, and is a cabling technique that crosses one stitch over another. It represents the ropes used by fishermen. It is one of the easiest stitches to knit, perhaps a reason why it's a favorite with knitters.
The diamond stitch is just what is sounds like, stitches that create a recessed diamond pattern. It represents pattern of fishing nets, and is believed to bring good luck, success, and wealth to Aran's agriculture.
The zig zag stitches is a crossing of stitch lines. It represents the Irish coastal paths, as well as the ups and downs of marriage.
The honeycomb stitch looks the the hive of the honeybee and is often used for broad areas of a sweater. It represents a strong work ethic.
The trellis stitch looks like a garden trellis. It represents the traditional Irish farm with its stone wall fields.
The tree of life stitch, also called the Trinity stitch, is a cable-like pattern that represents healthy families. It also has links to the early Christian religions of Ireland, symbolizing a pilgrim's path to salvation.
The blackberry stitch is an all-over stitch that looks like little balls of yarn. It represents the bounty of nature from land and sea.
The Irish moss stitch is used to fill in a diamond pattern, and was stitched to look like carrageen moss (a type of seaweed used for fertilizer). It represents the desire for a good harvest.
My hat is a dark gray, knit primarily with a cable stitch. My cardigan sweater is black and incorporates several stitches – diamond, honeycomb, Irish moss, and cable.
How to Care for an Aran Sweater
Purchasing an Aran knit product is easy, but looking after it requires a little bit of care. Although you shouldn't toss it the washer and dryer, it's still very easy to care for.
I air both the hat and the Aran knit sweater out after wearing. When the hat has gotten wet, I take a couple minutes to fluff and reshape it for drying. Once dry, I fluff it again, then put in away for future use. The sweater, I hang on padded hangers before putting away.
While I haven't had to do this yet, laundering directions are to hand wash in cold water with special wool detergent. Soak for about 30 minutes, knead slightly, and then rinse to remove detergent. Lay flat between two layers of towels to soak up moisture. Then block to finish air drying.
Where to Buy an Aran Sweater
I purchased my hat at the Aran Sweater Market in Galway. The company is based in the Aran Islands, and has locations throughout the country.
The Aran Sweater Market was a large store with big selection of good quality machine made items – clothing, home decor items, and knitting kits and products. They have a much smaller collection of hand knit items. I wish I had purchased a matching scarf, and a few more items for that would make a perfect gift. I guess that will be for another trip to Ireland.
You can also order online. This is the hat that I purchased. I would feel comfortable ordering a hat online as the fitting is a one size fits all.
I purchased my sweater at a small gift shop on Inis Mór, while visiting on a day trip from Galway. I recommend buying a sweater in person as the fit is a bit different from other wool sweaters. If your purchasing a handmade sweater, it's even more important to try it on, as the fit may vary. I wish I had picked up a crew neck pullover sweater as well as a shawl collar cardigan. Yes, I need to go back to the Emerald Isle.
If you can't make it to Ireland, look for shop near you that specializes in Irish or Celtic products. They may carry Aran knit products as well.
Disclosure: This post was developed with the assistance of sponsored travel.
Pin this post to your favorite shopping and travel Pinterest boards